I didn't take this photo… but it's probably a good representation of how life is going around here. I'm trying to keep myself normal. I'm trying not to hate my husband for not communicating and playing amongst the leprechauns. I'm trying to keep on top of my kids. That's been the hardest part. The buck stops with me. I'm the buck stopper. The parents are buck supporters…. but that is all. 🙂 But, between me losing my mind I do have superior moments of clarity in which I feel like all of this is going to work out to our benefit. Or, at least it will work out, and we will benefit by having a job. 🙂 It's between those moments…. that I turn less clear. 🙂 I really appreciate all the prayers and thoughts. I have the best friends ever. Both online and off. 🙂
I only have a couple of actual photos. I guess capturing the moments of my life right now isn't at the top of my mind. Or, maybe I don't have a mind… one or the other.
BUT, Spencer did go to the young Author's fair — like two weeks ago. He did such a great job reading his piece: "Caterpillar Crumble". I was really proud of how he'd practiced and how he used a big voice.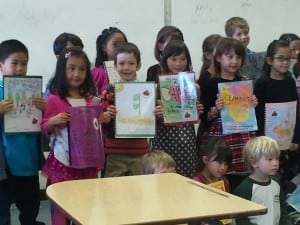 Here he is with his beloved teacher. I'm so glad he has her to support him. I'm a huge fan of hers. I'm glad she's not getting pink slipped. That would be sad. They also made leprechaun traps this week and while they didn't catch one, he did leave behind a little gold with chocolate centers. I love how everything is still pretty darn fun in first grade.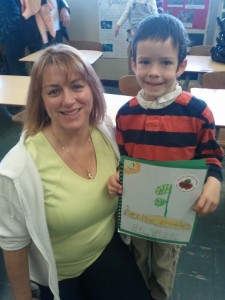 So, that's what's up here. If anyone has any tips on not holding your husband accountable for things that are completely not their fault, please advise. Also, don't forget to enter the
Pulling Curls giveaway
for a 65 dollar CSN gift card. What a great present THAT would be for yourself! You've gotta enter by Monday night!
Happy Friday everyone!