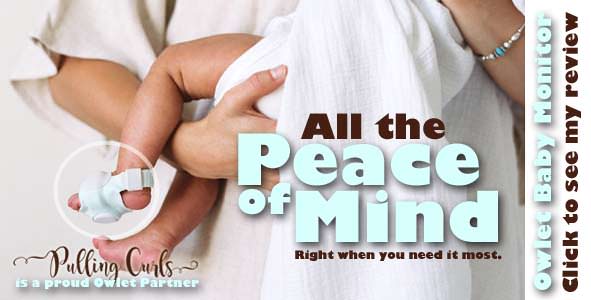 Well, this week has been as boring as I would like it to be.  I'm often reminded that boring is MUCH better than less than boring, am I right?
First off, if for some reason I don't write this blog anymore, you can be assured that I have been taken to haven due to my personal perfection.  The only thing keeping me on this earth, I am sure, prior to now was my swearing while sewing… but Drew fixed that all with my new sewing machine.  I finally got around to getting it out this week and I sewed me a beanbag.  Now, you're all laughing I'm sure.  Thinking I should have crafted something much more exciting, but a beanbag was the perfect thing to try it out on.  Now, get THIS… my needle didn't break, my bobbin thread didn't turn into a mass of knots, my fabric actually was pushed through instead of me pulling it through.  It was a miracle among miracles.  The machine actually works LIKE a machine, can you imagine?  Needless to say, my beanbag is amazing: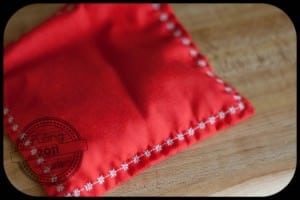 Don't you love the decorative stitching on the edges?  I was hesitant to try it, but the machine came out like a champ.  Excited to try the rest of the beanbags when I have a moment. 🙂  I'm hoping to sew some skirts too, when I have a few more free moments.  What's the chance I won't look like a stuffed pig in them?
Next, I actually took this picture to show my children that all of our toys could be arranged appropriately in the toy cabinet.  I'm going to print it out and tape it to the front of the toy cabinet.  I switched out the toys yesterday and it's always SO amazing that I'm able to fit every single toy in, but there is just no human way that THEY could do it.  Funny how that works, isn't it?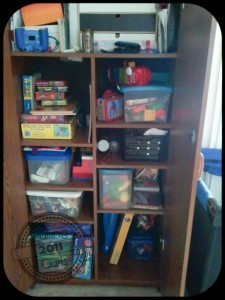 And finally, an AWFUL photo of the back of Miss P's head.  It was hard to take as she wanted to pose for me facing the camera in a delicate stance, but I really wanted the back of her head.  Do you see her little curled mullet?  It gives me joy each time I see it.  Her hair is still pretty random.  It has curl, but I think it's still so soft and so few that it doesn't really take shape, except on the back of her head, and then it's just plain adorable.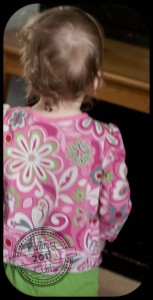 So, that's it for photo Friday this week.  I'm really hoping to get the real camera out more.  Mister S has a birthday coming up and he needs his own photo shoot.  I need to use my skills a little more too.
Happy weekend everyone!