Sorry peeps, the past few photo Fridays have been so great — I guess this week I concentrated more on the sister wives then my own children. Forgive.
Never fear, there are a few:
This is P eating her crepe for FHE dessert on Monday. Just to show I'm back in the saddle making desserts, and she's continuing in the saddle of dirty-ness.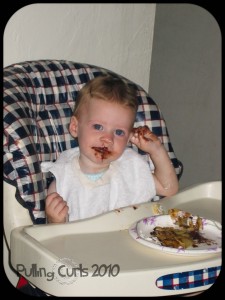 Today I got my stitches out. It hurt a bit, but man afterward. Well, it wasn't anything that coudln't be fixed by 800 mg of ibuprphen and Project Runway, but I'm just lucky I had both of those handy. I'm actually including this for educational value as well. See how it's all white around it. Well, she said I was keeping it too moist because I had bandaids that sealed around the non-stick pad (have I lost you now). Anyway, she told me to use bandaids whose paids cover the entire thing, so that there's still air flow to the wound. I guess it will still be a bit tender for a while and then the whole nail growing in thing isn't going to be entirely pleasant. 'Cest la vie.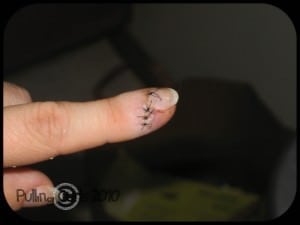 And finally, guess who learned how to draw on our friend the Magna Doodle. So far, she has liked to chew, fiddle and throw the pens, but last night we found her actually drawing. Wait, she's doing it again right now. Love that girl.
Anyway, there's my week in photos. It has been a bit of an unforgetable week, what with me trying to work on a fetal monitoring class for work, me trying not to cry every time I bumped my finger, and me working on costumes. Not to MENTION the other 4 people who live at this house. This weekend is General Conference and I'm excited to sit around in my jammies and show my family how much I love them by provided delicious baked goods. Don't you wish you were here?