First off, some sad news. I, apparently, didn't take many pictures this week… which is JUST WHAT photo Friday was set-up to avoid. I am feeling properly chastised. I did, however, get a few good pictures of stuff I made. First off, I made the Cook's Country biscuits (they were in their last issue, if anyone cares). I can not find the recipe for it, but they were delicious. They do them in the food processor… which leaves them so lay-er-y. I'd never made biscuits before. I could, however, open a tube with a little fat man on the front with the best of them. I even made them hearts, because Cook's Country says if you don't have an "edged" cutter you'll flatten all the layers (and I only have heart cutters, because up until now, sugar cookies was my focus). There's only one thing in this house allowed to be flat, and that's my belly. Well, and an upper region on my body, but I digress….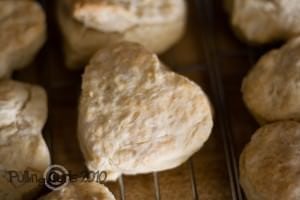 And, I couldn't let my fabulous jam go without a photo of it. Doesn't it look amazing? I wish I had some more of the larger jars you see in the background. They're a better size, but the tiny ones work too. Ingredients: 4 C Strawberry mash (which I did with my hand blender), 1C apple juice, 3C sugar (I actually did 1/2 C honey and 2 C of sugar… or something close to that. Plus like 90 gallons of boiling water. Man, canning is a hot process…. Plus, one packet of gelatin. Smelling this stuff is like crack cocaine. If I lose my job, it's the jam. OK? 🙂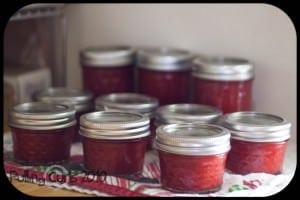 And finally, more sad news. I have an obsession with baby shoes and I am getting SO sad that P's are starting to get too small. I mean, I keep her in the third percentile for a REASON. It's all about the fashion ladies. These Pumas (that you see in the front) are SO cute, and have done us well. I remember being at Kid to Kid, wondering if 9 bucks for a pair of baby shoes was just excessive. I've probably gotten at least 50 bucks of joy and compliments out of them. I will miss them when she gets too big. I'll miss a lot of things, but my teething lack of sleep right now isn't one of those things. I do love baby shoes, don't you? 🙂
BTW, the ones after the Pumas are "See Kai Run" an man — those shoes stay. on. I love them. I got them at a garage sale for 50 cents. Score.
Lara, are you noticing all the pink in this photo? I sicken myself sometimes….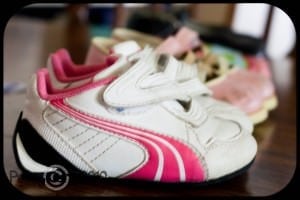 So, happy Friday I hope the weekend has lots of fun in store for you. Mine has work and next week might be even more busy then this week but I SWEAR I will have a photo of someone in it next time. Even if it's just me waiving in the mirror. 🙂