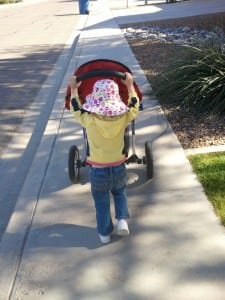 Anyone remember how my word for the year was "abundant" well, I've got it. Full force. Here's what's up at our house! I've taken to walking, a lot. Just trying to be more active, and get out with friends. Princess P had somehow talked Grandpa into her pushing the stroller when they went on walks over Christmas break. She thought she could talk me into it too, and yes- – she whined enough, she did get to push it the last couple of blocks home. On a totally unrelated note, I love little people in jeans. Just so you know. 🙂
And finally, WW is going alright. I sometimes am STARVING and I'm not sure what to eat (because I also like to stick to whole foods instead of preservatives) so I made up these oatmeal packets. it's 1/2 C of quick-cook oats, and about 1/2 tsp of milk powder (to make it a little extra creamy) and 1T of brown sugar. This whole thing is 4 points, and sometimes I add some fruit. I like it a lot, and it's filling, and lasts me for a while. I want to always try and have some of these on hand.
Plus, I'm starting a little ABC school for P and her friends (anyone else remember when I SWORE I would never do that again!), heading up the school carnival and starting up girls night, oh and Drew's birthday is this weekend. It's abundant, and it's all mine. 🙂 Happy weekend everyone!