First Off, we went on a duck tour on Labor Day. It was a LOT of fun. If you ever find a groupon for it I highly recommend it. Apparently, ours was a "quacker tour" which is somehow different… either way it's land and sea all the way, baby! This isn't actually our boat, but it shows what it is, for those of you who are lost. 🙂
And a sun soaked picture of us in front of our sea worthy vessel. Man, I have a glow about me, don't I? We brought sweatshirts, but we didn't need them. For once in its lifetime, SF got above 70 degrees, which was good because we were in an open air vehicle going on the land and sea. 🙂
We saw some ships in the ocean, and a sea lion soaking up some tax-free rays
The kids all even got to drive the boat. Oh, and Drew. 🙂 Spencer's with our friend Derek. I am not sure how I didn't get a photo of him and his amazing wife Tansy, but they allowed us to come on their voyage with them. They were really good quackers.
In case anyone left their heart in San Fransisco, it's in Union Square. It's awful pretty too (must be an art exhibit because there were a few of them).
We rode through China Town. Love that place. IN-sane. They even showed us some of the less touristy places. Those people sure are green, lots of undies hanging out the window to dry…
This one's for my mom. She loves her a psychic.
While we couldn't go ON Lombard street (no large vehicles, we hard a hard time getting our minivan down it the one time we went), we did get a nice view of it. Who on earth lives on that street?
We had to see our friends the sea lions. Last time we were there, they'd gone away for a bit — so it was nice to see so many back (but so far away… do we smell?).
Me, reminding C and S that if they're bad I'll send them out to Alcatraz. Maybe I'll blow this up and put it in the time out corner.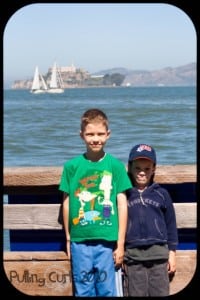 Seriously, my kids love the sun, can you tell? I promise Conner has eyes in there somewhere!
We saw some street performers, and realized that the line between a performer and a beggar is very small. Especially in this guy's show. This is Keith from the Keith show, and keith.com And no, please don't go to his web page. Sadly, I'm pretty sure I'll always remember his name is Keith, as many times as he told me he also does corporate parties. Good for you, Keith.
No photo Friday is complete without a picture of something I made. I made Oatmeal Butterscotch Cookies — but instead of 3/4 cup of butter, I used about 1 cup of cooked white beans (not too packed, so I figured it was about equal). I know, you're dying just reading that but these are great. They're REALLY great right out of the oven, and a little less great the next day but you would NEVER KNOW. Seriously, try it. Try your own, because these are all mine.
And, finally today was P's first day at our church playgroup. She heads out to nursery in 7 weeks (but who's counting, oh and one of those is conference so basically just 6) so I am wanting to socialize her a bit. Let's just say she wasn't a stellar participant but she enjoyed herself, until about 10:45 when we decided it was time for nap time. Which we are still doing right now. Go naps! 🙂