Guess who's turning eight. And no, it's not me. I'm practically devastated that Mr Spencer is up for baptism next month. I'm having a harder time with it then I thought. I guess I had imagined it all out in California, but it's here… just like the rest of our life. I had to take him out for a little photo shoot so we could make invitaitons… Wonder if I can find Conner's…. Ahh, yes, here it is — during my scrapbooking time. Does this mean I need to do something similar for Spencer?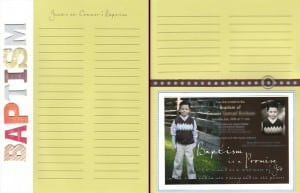 Anyway, we'd LOVE to have a ton of attendance at Spencer's baptism. I haven't gotten Spencer's finished or the final approval, but I'll post it when it's done. We're really excited for our big kid. Here's one of my favorite photos: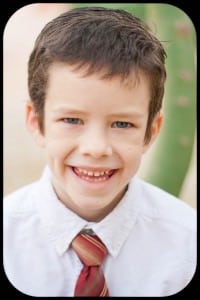 BUT, the big finish is our scripture from this week's FHE. Drew and I decided, since we're studying the Book of Mormon this year in church that we'd have a lesson each month about one of the stories in the Book of Mormon, really bring it to life. So, without further adieu. Here is Nephi getting the brass plates. Note: No fathers were harmed in the making of this video presentation.