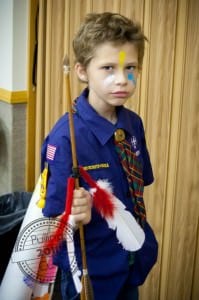 Is there anything scarier then a cub scout with a live arrow in his hands? No. I think it would make a great thriller. The cub murders. Ouch.
BUT, Conner is moving on to boy scouts. After much issue with the whole moving ward thing and our last ward being less then involved in the whole scout thing, Conner got his Arrow of Light this week. We're super proud of him.
This ward's scout leader is ON the ball, and the primary presidency really backs him up (many of them were there, I was impressed). Each time a scout advances they'd get to drink blood, or wrestle a bear. It was really cool, and it kept the kids entertained in just the way that little boys love to be entertained.
BUT, it was a lot of work for El Presidante, and we are very proud. Excited for the next chapter of scouting (and by excited I mean a little nervous, I remember all too well all the stupid things my brother did in scouting).
Happy Friday everyone. Let's hope there's lots of reason to bring out the camera next week!