Happy Friday everyone! Let's see what the ol' Rebel XT has in store for us today!
Well, Miss P had a big leap this week, she went to nursery for the first time on Sunday. She did SO great. She didn't even notice/care that I was gone. I'm excited for her as she's SUPER possessive of me. It's time for this wee one to find out she's her own person. Here she is on the morning of the fateful day. I was pretty amused it was on Halloween — and let's face it, I'd been counting down for a while. Who'd like to guess how long this little clip stayed in her hair. Anyone?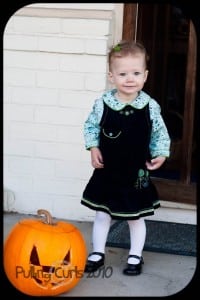 Hey, btw, this is Conner's first pumpkin he carved on his own. Isn't it fantastic?
The lady has a thing for shoulders. Classy gal, she really knows how to drop it like a sock. Did I mention that I love this outfit? Because I do. There's just something about an adorable jumper….
Whenever I bought 18 month dresses I'd picture her walking into nursery in them. Really, she's such a diva.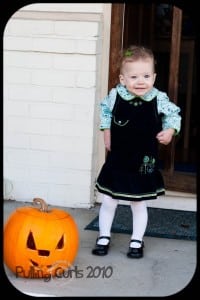 Along with nursery, we had a visit to our doctor. Our little lady is in the 4th percentile on weight. She's barely tipping the scales at 20 pounds. The pediatrician advised us to keep her rear facing as long as her carseat will let us. I think that will be until we have a big trip. So far she's doing well (BTW, we have the
First Years True Fit
carseat and I LOVE it). On the other end, she's in the 86th percentile on height. String. Bean. The pediatrician did mention if she hadn't taken care of my other 2 kids she might be a little worried, but the Ericksons have one pattern, and that's skinny. We did have a nice talk about iron containing foods. Funny thing, I'm pretty sure that P is a better eater than the other 2 were…
BUT, here the little lady is doing some play dough for the first time. See, lessons isn't ALL about flashcards… but don't get me wrong, we've already broken the seal on the ol' flashcards. I'm hoping for a bit of verbalization. It's coming…. I think…. Does everyone see those adorable curls on the top of her head? If not, you need your vision checked. And you're welcome.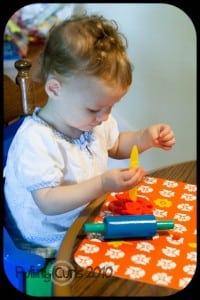 And, here is a meniacal killer. What's that in her hand… a bomb?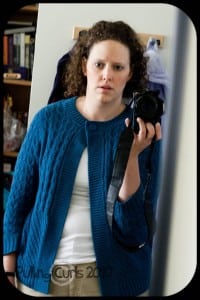 Oops, just a camera. I wanted to show you my new sweater. I'll just mention that on its tag is the letter S. I'm pretty sure Croft and Barrow just runs large, but what a happy thing THAT is. Do you like it? Yup, it's cable knit. You'll see a lot of that if you know me.
And what's a Photo Friday without a little peek at the goodies at the Ericksons. I made
these
cookes. They are peanut butter with tiny peanut butter cups. They also have oatmeal and I ADORE them. I know, cookies right after halloween? But part of me wanted something a smidge healthier than the goodies my kids were double fisting after school. These cookies really are delish though. Don't you want to be my friend?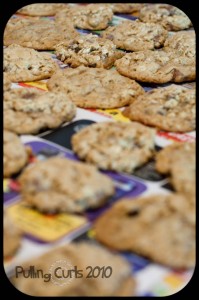 So, that's it for the week. I must say there's probably some good pictures from the halloween parade at school but I think I'll hold them ransom for the teachers. Hope everyone has a great weekend! {blowing you kisses}