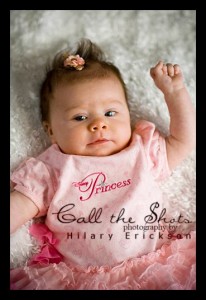 Is it the most amazing photo I've ever taken, no.
But I love her mom, and her grandma… and her grandma babysits Paige every other week so I can help out at school and I'd do just about anything to pay her back. 🙂
Even though I didn't renew my business lisence I can still take pictures. I love doing it and editing them and seeing the real beauty in a person come through is really a joy for me.
I think what I love most about this is that little arm. So darn triumphant as a little princess. I wish I could feel triumphant like that more often. My plans always seem to get derailed. I should feel "confident, dry and secure" more often. 🙂 Don't mess with this girl. She's take you out. 🙂