People, do you see the frowny face in this graphic.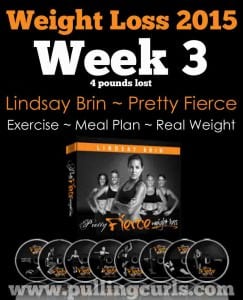 Last week I had lost 6 pound loss (and that is cumulative loss) and now I'm at 4 pounds. Meaning I gained…  I'm not going to lie and say that my cheat day wasn't AMAZING (as outlined her diet).  I had both nutella and cheese dip.  However, I think I always have the hardest time losing on the first of her weeks because my body is really working to just get into the exercise so it's kind of "holding on to what it's got" that week.  Hopefully this next week will be better.  I mean I REALLY HOPE so because the workouts were Hard this week!
Workouts:
1.  This is the week that running got added.  I'm a HORRIBLE runner and I HATE it but I really want to try to do the runs rather than re-do a video.  I think it stresses my body in new ways.  I did it, I hated it, but I did it.  You can check out my photo on Instagram. 🙂
2.  It is TIRING to do a really draining cardio program and then add weights for 20 minutes afterwards.  I thought I was going to die on my run, but I had to come back home and nose to the grindstone for a 20 minute toning workout.
3.  My pelvis is still a mess.  I have a hard time doing exericses where one leg stays steady and the other one moves.  I know it's also not doing my core any favors.  People, my baby is 5.  She'll actually be six fairly soon.
4.  I got some face wipes at Walmart, I hope it cures my nasty breakout issue… not a favorite!
5.  I have friends who say they'd love a peek into my workout room, and while I would mortified to have them watch me do jump squats I'd be even more embarassed to have them hear me.  Let's just say there's a lot of positive self talk to make it through these sweaty things.  Yuck.
The Diet
1.  So, it's a total of 1300-1500 calories per day broken down into meals with one cheat meal and one cheat day.  I took my cheat day on Martin Luther King Day and the meal was Saturday night
2.  My brain LOVES the break of counting calories.  I obsess over it.  As I do most things.
3.  I like it split into meals.  It makes it easier for me to focus.
4.  I am finding out that MOST of our dinners, if I just eat one serving, are 400-500 calories.  I went through and made a Monday Meal plan and figured out the calories on each dish.  It's certainly doable.
5.  I don't feel hungry, in fact I often forget my morning snack just getting through my to do list.
Here's to a big loss this next week.  I could REALLY use that. 🙂
---
Be sure to check out all of my Pretty Fierce Weight Loss weeks:
Week 1
Week 2
Week 3
Week 4
Week 5
Week 6
Week 7
Week 8