Ok, no fancy logo for this one, but each year I forget how LITTLE the kids are that come into my primary class. I teach the four year olds, and my class is pretty small this year. Almost all the kids won't be attending Kindergarten next year because their birthdates are so late.
I really need to provide more activities and less sitting.
And I am 80% sure they didn't have tiny 4 year olds in mind when they wrote this lesson manual.
Anyway, this week it's about comparing road signs with commandments. I wanted to talk a little bit about the REAL road signs…
and then the church has a little road signs of their own that we can color in.
But, I thought you guys might like my real road signs to print as use as you wish.
Voila.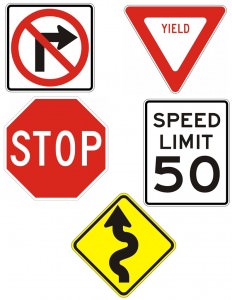 I am also going to try and find a picture book that at least has some loose tie into what we're talking about. I did a regular story from the lesson manual last week and my girls just about died of boredom. We can't have that now, can we. This is the one I'm using this week. Mostly because kids love Mercer Mayer, but also that it's about a kid who doesn't do the "right" stuff. 🙂
I'd love to hear what you're doing in primary to keep those kiddos engaged. Do tell!