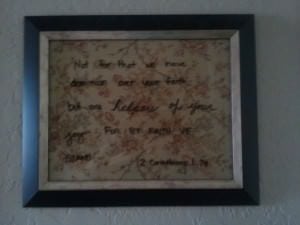 I have to say that I LOVE my little quote board at the top of the stairs. I have time to reminice about it each time I "scamper" up them. 🙂
Wow, this is a really bad picture. Here's last week's quote:
Not for that we have dominion over yor faith but are helpers of your joy: For by faith ye stand — 2 Corinthians 1:26
And this week's is



Act as if what you do makes a difference. It does. ~William James
We made the little quote boards last year at Super Saturday — it's just a picture frame with fabric behind it. But it hopefully makes my kids think, and I know it makes me think too.