Here's today's grocery shopping trips. One of my best, if I do say so myself.
I did split it into two trips, just to make it most economical…
Transaction #1 :
4 boxes of life cereal @1.88 each
2 boxes honey bunches of oats @ 1.88 each
4 Capri Suns @ 1.99 each
4 Packages of ground beef — 99 cents a pound (TODAY ONLY — GO, this is an AMAZING price!)
Total: 87.26 (that's the total prior to the savings, which is already reflected in the prices I've typed)
Used 10.00 dollar catalina from last week (a Catalina is one of those coupons you get from the machine with your receipt)
I get a 10% discount til' 06/18/08 — sa-weet, saving me 2.16
2 Life coupons for 3 dollars off 2 — saving me 6 dollars
And a 1.50 catalina from last week.
GRAND TOTAL after all the savings: 11.96 — that's an 86% savings
PLUS, I got a 5 dollar catalina for my next transaction (if you buy 4 capri suns this week, you get a coupon for 5 dollars off your next order — it says your next order for team snacks, but I've never had a problem just buying groceries with it)…
__________________________
Transaction #2 (be nice to your cashiers, splitting into 2 isn't bad, as long as there's not a long line behind you — I was lucky today, and you'll see how splitting it worked in my favor):
3 pace picante sauces @ 3.00 each
6 bottles of assorted coke products @1.89 each (with buy 3 get 3 promo)
Otter pops (total splurge) @ .99
Mission tortilla chips @ 3.00
CRV of .30 cents
2 18 count eggs @ 6.79 with buy one get one free
Total before savings: 44.51 (this is prior to my safeway card savings)
Used 5 dollar coupon off last order
Got 5 dollars off doing the cinco de mayo deal (buy 15$ worth of coke, pace or mission items and get 5 dollars automatically off your order)
my 10% discount (2.05 this order)
and I had a coupon for the chips for .75
Total after all that: 13.63 — a 70% savings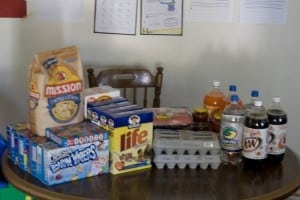 Full total after both trips paid 25.59 for 131.77 worth of groceries
So, why did I take the time to post this excruciatingly long blog entry when I MUST have other things I could do (believe me, I do)…because all I hear is how grocery prices are going up, up, up and we're all gonna die. However, you can use the free market to your advantage… food companies still have to compete with each other, unlike the gas companies. Food for thought friends.
The capri suns ended-up being 0.54 cents/box (remember I have a 10% savings tagged to my card right now)

Life ceream ended-up being 0.29 cents/box

The pop ended-up being about 0.56 cents/bottle
No go to safeway and get your cheap ground beef.