I think this is a tough one.  But SO important.  I think if I'm not organized I constantly feel like there are bits of my life out there not connecting for me.  So I'll go through this one a step at a time.
First off, I LOVE my google calendar.
I was worried to leave the ol' palm pre.  I had my whole calendar on there, and I would sync Drew's and mine every month so we were on the same page.  I thought it was perfect.
And then we bought our Samsung Epics.  And WOW.  I was wrong, wrong, wrong.  Each person in our family has a calendar on Google calendar.
Get ready for the rainbow of colors — because we all know I love color.  Here's how ours looks: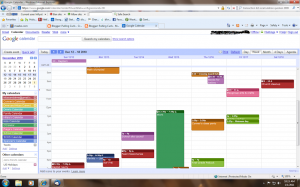 Isn't it pretty?  You'll see on the left how I made calendars for every person so I could get them all to be in pretty colors and I could know at a glance what everyone's schedule is going to be.  Also, I can click and JUST have my work calendar show up.
But wait, there's more.
Drew's phone syncs with my phone and we are CONSTANTLY up to date on what each person has put on the calendar.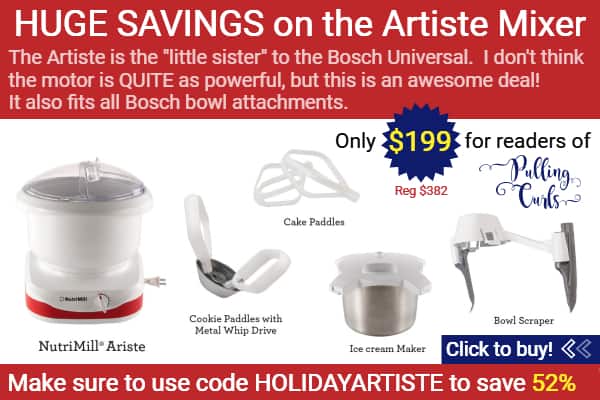 Of course, there isn't an app for having Drew remember to put his stuff ONTO the calendar… but that's an electrical shock for another day.
Also, I can access it at work, or at school and it's always on my phone and that's pretty well usually right near me.  It's just so dang handy.  I can't recommend it enough!
We used to have a giant wall calendar that I would update monthly at our house, but I'm thinking of just putting up our google calendar, just printing it each month and posting it there.  I was getting too lazy about updating it anyway.  If money were no object I'd put up a giant LCD with a widget… but you know how dreams are….
The other thing I love is my astrid app.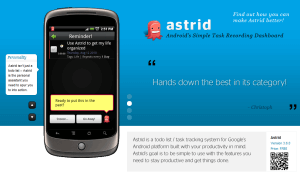 It's just a to do list, but over Christmas break when Drew was home playing mom I had his set to update his astrid through our google tasks.  That way he had all the tasks on his phone too and I didn't have to write them all down for him.  It made me exceedingly happy.  Also, we set our astrid to sync with our google tasks so when I got home I knew what he'd done and I could just go from there.  Here's what our google tasks looks like:
Serious genius, no.  I'm pretty sure it's all saving our marriage.
Anyone sensing how anal I am?
And as I always say, our Samsungs Epics were cheaper than a divorce. 🙂
Here's how the home screen of my phone looks:
So, with just one glance at my front page I usually know what's going on that day, and the next day along with what's on my to do list.  Makes it easy to stay on task, even when I'd rather sit on the couch and watch countless netflix documentaries. 🙂
Anyway, it's an integral part of my personal organization, in the coming week I'll let you know other things that are components in my organization.  Honestly, even before we had our fancy phones I wish I
would have had google calendar.  It's a life changer people. 🙂
BTW, I'd love for you to do this on your blog.  What works to keep YOU organized?  Inquiring minds want to know. 🙂