As a member of the Church of Jesus Christ of Latter Day Saints, it's easy to measure your life in 6 month marks — October to April and vice versa. We have our church-wide General conference at these points. I like to compare it to our Rosh Hashanna. 🙂
In general, it is about family and food for us. And pajamas. A beautiful weekend, a true blessing from God.
But last April I had SO many questions and wondering how life was going to turn out for us. I hung on EVERY word from the Lord's servants.
And this year I can't echo the sentiment that God loves EACH of us, He has a plan for us and he wants us to be happy. And we we will be happy if we do what he wants of us. I truly have a testimony of all of this. And if you are at the point where you really want to know what God wants of you, I can only say that sometimes you just need to take the steps, you need to have faith, even when the thoughts in your head seem ludicrous. Things like:
Picking a job with an insanely low salary
Thinking you can just nab a job, wherever your husband finds one
Buying a house on the Internet
Thinking you can just get a loan, even though you're switching jobs
Selling your house during a GIANT housing recession, and hoping to come out on top
Moving to a town that you had only driven through once on band tour.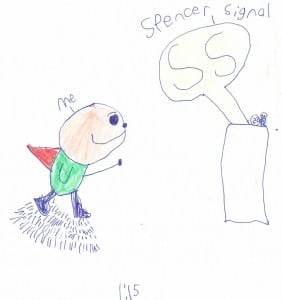 God expects you to have faith, and he will unlock the doors of heaven for you.
And sometimes they have cinnamon rolls in heaven. Or, so I am would infer since what would heaven be without cinnamon rolls?
In other news, I distinctly remember thinking that would be my last time to make cinnamon rolls in that house, balancing pans on the sink. And it was. I had them on the island, and it was pure bliss.
Thank you so much for my abundant blessings, Heavenly Father, I do see how richly blessed I am.
**P.S. Spencer Drew this picture this AM. I do think we sent out a bat signal to God last year, and he totally paved the way. 🙂