This is spaghetti Squash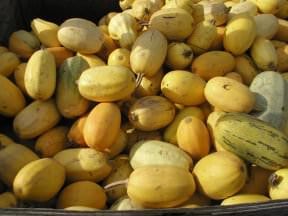 They're the big yellow oval ones.
This is one after you nuke it in the microwave for 4-6 minutes/pound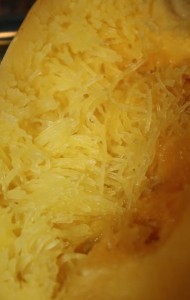 I served this tonight with a homemade marinara (with tomatoes fresh from the garden).
With a side dish of brussel sprouts.
And yes, I'm serious. And YES, it was DELICIOUS. I was wary. Substituting squash for spaghetti… does that really seem smart?
Concerns I had:
1. It would take forever to cook. The microwave fixed that, and it only took about 15 minutes total to get it from a raw squash to a prepared food. Just poke holes in it, place it in a casserole dish (for easier transport) and microwave. Let cool for 10 minutes before you cut it in half, gently get the seedsout, and then fork the flesh out. I saw a few helpful videos on Utube on how to do it.
2. It would be gross. Honestly, it tasted a lot like spaghetti, just a bit sweeter. To compensate, I just left sugar out of the recipes I saw. I'm not kidding, and I don't lie. 🙂
It is SO great for WW points, the kids loved it, so did Drew. We all enjoyed it.
As for the marinara sauce, I peeled the bigger tomatoes (I have a large variety in my garden — I just blanched them for 30 seconds and the skin comes right off). Then, I stuck them with my other cherry tomatoes (I left the skin on these, that was just over my will level) and took my stick blender to it. It was easy as pie. 🙂 BTW, loving the stick blender more lately. I think I just had to think of ways to use it. Then, I sauted some onion and garlic, added the tomatoe puree (which I intentionally left a little chunky) to it. Along with some spices and some good ol' dehydrated carrots for sweetness. I let that boil and bubble for 10 minutes or so…
SO good. OH, and I had some chicken paremesean sausage on hand, it really added the bit of protein we needed, along wtih a handful of parmesean cheese on each plate.
Anyway, if you were scared of spaghetti squash like I was, I say give it a try (one of the big perks in the summer is that it cooks in the microwave and you don't have to stand over boiling water).