Some blog lovers may remember I had to buy a new dryer a few weeks ago. Much sadness ensued and somehow God has given me enough extra shifts to act like it never happened. Thank goodness.
ANYWAY. This isn't even about my dryer, which I do love. At least I think I do.
This is about how I used to have a little storage cart next to my washing machine, and I was so smug about how it fit and how it would roll out and I could grab things.
And then my dryer grew by 3 inches, and it wouldn't fit anymore.
Enter the Sterilite 3 pack narrow drawers.
My space was just over 9 inches, and I believe these are meant for just over 8 and it was a
match made in heaven. I don't really have a "junk drawer" in my kitchen but these are taking the place of it. I've got one for tape and flashlights. One for sponges and gloves, one for silverware (and to my delight, the boxes of walmart plastic silverwear fit perfectly into it so I can just open the drawer and grab what I need — you can't imagine my delight at this, I don't get out much). One for cups, one for extra silverware and bowls. And other things. I ended-up using 6 of the 9 that come in the pack (you get 3 packs of 3 drawers, and they can be stacked if you'd like — nine seemed like too many, and I'm sure I can use these in my closet.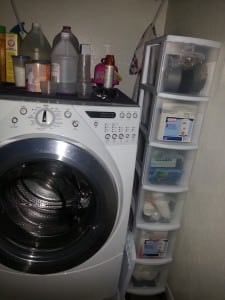 I've even included a photo. I'm not really stuck on how I have them right now, but I do love having them there.
SO, if you have a small spot that you could use some extra storage (these might even fit next to your fridge if you have a lot of space, just measure) think of these drawers. They slide well and are a good size for those items that just can't seem to find a home. What would you store in them? I think there may end-up being a sunscreen drawer pretty soon.