In an effort to bore you ALL to tears, I'm going to review what we did on our vacation. I don't really scrapbook anymore, so this may be my only hope of family history. Luckily it is totally skewed from my personal viewpoint so generations to come will pay homage to what an amazing mom I am. 🙂
We got up at like 3 am and headed out to Provo. Princess P wasn't sleeping very well anyway that night so we just gave up and left. I'm glad we did, it was less hot then and we were awake anyway….
We stayed at my parents house that night (my amazing sister in law was there looking at houses, so it was nice to be able to see her while we were there, although my kids were DEVASTATED that her kids weren't there… oh well, next time!). The next day, one of my former YW was blessing her baby (don't worry, she's married) and I got to see all of my peeps. It was so fun to see everyone. We miss CA a lot, but luckily the people from CA are all spread out. 🙂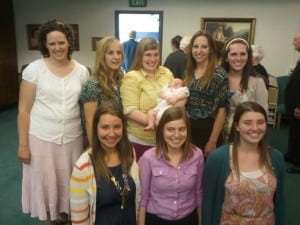 Then, we headed up to ID to be with Drew's family. His sister and her family was already there, and then 2 more sisters came (and one already lives there). Yes, Drew has five sisters. Aren't we lucky? Well, most of the time we are. 🙂
Monday was spent exploring Franklin county, and a requisite stop at Big J's. We also tried to get into the Franklin museum with no luck.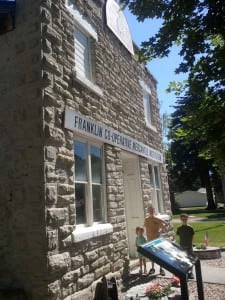 Tuesday, we played at my cousin's house and stayed for fireworks, and even set off a few of our own (to the delight of my children). Then it was time to batten down the hatches for the family reunion. Post on that to follow. 🙂