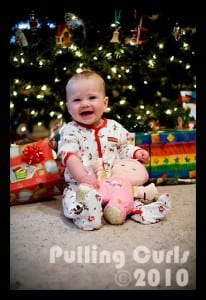 Admit it. She's crazy cute, even 2 years ago.
Time for my annual Christmas query, as I'm a mom who likes top quality toys that the kids will find fun and enjoyable for a long time. So, here's this year's question.
I'd like to get an MP3 player that may or may not allow game downloads but I don't want him to have willy nilly access to the Internet. Is that possible? Not sure, I may just get him a regular ol' Sanza Fuze like the rest of the cool kids have.
And finally, being that we have almost every boy toy ever created I'm venturing into the land of solid girl toys. P got a baby doll last Christmas, she has a stroller and she got one that wets when we potty trained. What does an almost 3 year old girl need? I've seen the swing/carseat/ etc… and that seems to be a bit overload…. What were your favorite toys for a 2-3 year old girl.
Besides a muzzle. I've ruled that out.