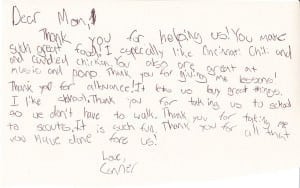 I'm a bit of a handwriting snob. It could've been years of wading through poorly written docotors and nurses notes. I've spent a fair amount of time with other nurses trying to figure out what a doctor has written. The doctors aren't apologetic, either. One time we even tried to ask him and he hadn't a clue. Good times.
Anyway, Conner has awful handwriting. It drives me insane.
Is it a boy thing?
I'm pretty sure it is, but I don't care. I want to fix it this summer.
But how?
Above you'll see a note he wrote for me. Sadly, even on lined paper the lines still seem to look like this. It's just something I'd like to work on. Have I seen worse, obviously. It's not chicken scratches, but in order to communicate, people need to understand your communications.
SO, how do I do it? Last year I did worksheets on cursive and penmanship and it didn't seem to help. He'd just hurry through them to get onto the next thing. Also, I feel like those might be a waste of time.
Maybe some good ol' fashioned spelling words?
I dunno, but I thought I'd ask.
Help me readers, help. 🙂
P.S. I love this card. It hangs by my sewing desk in the office. It gives me happy feelings. Every kid should write a card like this. I shoudl write one for my mom.
Maybe tomorrow. I have my canning party tonight. 🙂