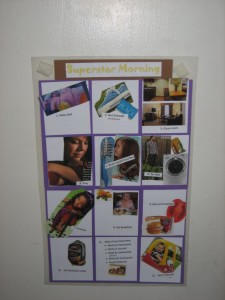 It's no shocker to avid readers of my blog that mornings before school are NOT my favorite time, and now with 2 to get ready I was dreading it even more. I am the kind of girl that feels like preparation is the KEY to success… so I came-up with a craft for the boys. First they decided on a morning routine — all the things they needed to get done. Then, we went through some old magazines I've been saving for summer crafts. Then, we typed out the steps and they pasted them all on some construction paper and then I took it to Office Max to get the really good lamination on it. Hopefully it makes it through the year. 😉 Anyway, it makes me smile as i come down the hall and I really hope that it helps. I really need them to take the
responsibility
of getting themselves to school. I also really like the pictures they picked out.
Yesterday morning I also spent 45 minutes teaching Spencer how to appropriately vacuum his room. We're changing the responsibilities and that's one I'm adding for him. I sat in there and showed him how to do it and then watched him do it and gave helpful hints. I just kept reminding myself that it would save time later on. At least I hope it will.
In other news, big teacher announcement. I have come to the stunning conclusion that Spencer will not have the same Kindergarten teacher that Conner had. After a brief moment of sadness I'm actually now really OK with it. C and S and pretty darn similar and I think it would be hard for a teacher not to make comparisons between the two. I like that Spencer is starting out with his very own fresh slate. However, nothing's set in stone til' tomorrow and the way our state is going with finances, possibly not even then. Boo stupid state legistlature… boo….
I hope everyone's noticing how cool and flexible I'm being about all this. I will tell you more as I can, but I am sworn to secrecy….