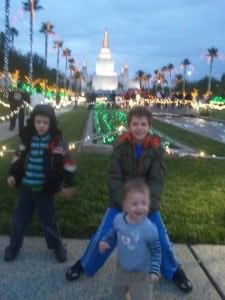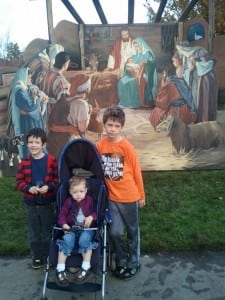 This past Christmas has been tough.  Mentally tough.  I'm constantly thinking about things we used to do or traditions we USED to have.  I'm sad when I think about the many friends I'm missing.
Last fall we went to the Bellagio hotel.  It was a visit with old friends and SO necessary.  We had an amazing time, and I love those friends so much.  We ate brunch at the hotel and went to watch the fountains and this song came on.  It really hit me that it was time to say goodbye to that other life.  We then visited with Arizona friends in Grand Canyon and had SUCH a great time with them.  I felt so blessed to have so many good friends.
And then the holidays came.  So much of our routine revolved around events that happened there.  The creche and Palo Alto Creamery, the dance thing up in Oakland and then Fudruckers, and of course the live nativity at the Local baptist church.  My heart would literally break when I saw posts on facebook of these events.  Just missed them.
But honestly, it wasn't helping anyone.  It's like I was a hoarder of life events.  I just couldn't let them go.  It's like if I said goodbye to those things it was like telling those people who I love, that I don't love them.
But the truth is, I can't love them the way I did when I saw them all the time.
And so it's time to say goodbye, and hello to this great new life.
At work I keep saying, "I'm new here."  But honestly, I'm not new there anymore.  New people have come since me, and I'm a regular there.  It's my new hospital and the routines there need to become my routines, not get stuck in the old ruts.  I honestly am going to write down a list of things that I always forget to do because we didn't do them at the old hospital.  The new is the now.
And it's the same here.
We had a goal to invite a family we didn't know very well over to our house once a month in SC and we made SO many great friends that way, but have we done it here?  No.  Sad news.  Have I had a girls night?  Well, I did have a little party, but is my whole heart here, or is some of it missing what went on there and instead missing what could be happening here.
Sometimes I wonder a lot if this is what it is like when someone dies.  If they are left missing things on earth so much, that it hurts, and and they're not fully able to take in their new "heaven" because they're so attached to other places.
But just like me, I know there's a time that they have to say goodbye to the earth and the people on it and focus on their new reality.
The best part is that both in heaven and here on earth it's not that I'm saying goodbye to those people for good, we'll still have facebook and this blog, but it's time to cut the last strings.   Bring myself fully here.
It's time to say goodbye, and hello to 2012.
Have you guys ever had this problem?  Am I insane?  I know this won't stop the heart strings, but I hope it reminds me that I'm here.  And longing to be somewhere else isn't going to change that.