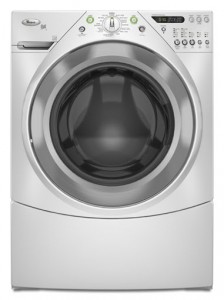 New washing machine
is in place.
SO excited about it.
Really.
SO EXCITED.
Drew and I have a philosophy that you either buy a good quality item, or you buy it used. No need to buy low level appliances when Craigs List is calling your name… but Craig wasn't calling my name this time. We have 3 kids, we need a new one. And it was a first.
For, you see — this is me when we bought our first washer/dryer: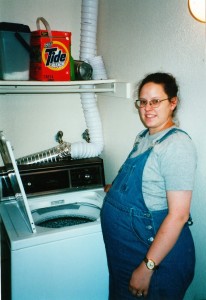 We got the pair for 400 bucks from DI (Mormon Goodwill). I was in HEAVEN. We'd been going to the laundromat for almost the first 3 years of marriage and I was SO happy to have my very own set. You see me pregnant here with Conner. He's now 9. The machine was an oldie when we bought it, but it lasted us well (the dryer died about 4 years ago). It has been louder than a freight train lately during the spin cycle, but I didn't really care — our washing machine is in the garage, and it still got the job done. But, just last week we started seeing water coming from it, somewhere on the inside. Drew and I did som searching, but the leak wasn't apparent and we slowly decided it was time to get another.
But NOW?
Yeesh, we've already spent our Christmas alotment, and gosh — I could easily spend that money somewhere else, or keep it all nice and cozy in our savings account.
I went to the store. Actually, I went to 3 stores.
Home depot was totally useless. Their appliance guy is NEVER in and it drives me absolutely insane. The manager was like, "sorry". I told him I was going to Sears. He shrugged his shoulders.

Sears, the guy was nice but inflexible on pricing. I did get a lot of good info.

While was at Home Depot I actually saw our bishop who said he gets most of his from Western Appliance, which is where I ended-up going. They had better pricing than Sears, a lot of knowledge, and they could deliver it next day. Hallelujah.
So, here's the good part. Sometimes you wonder why, WHY NOW. WHY ME?
Well, here's why now. We obviously were going to need a new one sometime soon, and Drew and I had it on the back burner in our minds. Right now, however there are some sweet deals from Black Friday AND there's a local 200$ rebate on high efficiency washers courtesy of the cash for appliances program. Hence, we got a 1k washing machine, for 470, shipped and delivered. Of course, it was 670 prior to rebates, but they're already sent in, and it's through PG&E and they usually pretty prompt.
Anyway, it's good to know that God has your back all the time. I just wish he'd told me not to wear overalls in my pregnancy. Man, that is a bad photo. In my defense it was like 9 ba-zillion degrees in Utah that summer and we had just moved, and only had an A/C unit in the front room. Of course, prior to that move we had no AC.
In other news, some questions about these fine front loaders:
1. Where do you put oxy clean if you're also using liquid detergent?
2. Do you use the pre-wash cycle?
3. Do you get the extended warranty? I opted not to because I hear they are a waste of money (I just pray that my tithing is warranty enough)… but it always makes me nervous.
3. Do you have tips, other than to leave the door open so it doesn't get all moldy….