Don't you love Man of LaMancha? Is that how you even spell it? I am fired, but boy, gosh, golly, darn those are some of my favorite show toons of all time. Not that this has anything to do with what I'm writing about. Just thought it when I wrote the title.
I was reading this entry over at The Power of Moms, and I was thinking that as moms we sometimes just think "this is what it is." Be that, our 18 month old is screaming for 4 hours at night, or we have a scream fest during FHE, or we don't have an advent caledar (I, btw, have 3. Take that, I'm the best mom in the world).
We always have the power to change what is happening in our house. That doesn't mean that the change is easy or that it won't require devine assistance beyond what we, personally, can do… but we CAN do it.
So I'm setting out to not hate scripture time or FHE time (while we're on me being hateful, I am tired of teaching kids how to read english from parents who are too lazy to learn it on their own, there I said that I sometimes hate scripture time, FHE and ESL students… cue lightening). I have the same feelings of angst during scripture time. I've just started talking about each verse as we read through it, and I make us read the verse a million times until someone can come up with something ensightful from it — even if the insight is that the Lamanites had shaved heads. I hate it though. My insides boil, I have constant feelings of how it's never going to help and we are NEVER going to finish the Book of Mormon at this rate. Thankfully, the smarter voice in my head says — "SO WHAT, just so we can start it again – -it's the JOURNEY Hilary!!!!"
Anyway, this month I'd like to just recognize those feelings.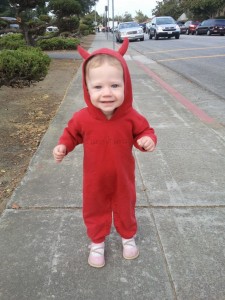 I do think that Satan is VERY real. I think that when Joseph Smith kneeled in a grove he felt a very real force who was VERY angry at what he was doing. I think satan sometimes feels that way when we're together as families, teaching, sharing and loving. Those are all things he can/will never do.
But I think sometimes I just need to recognize that he's meddling with me. I need to move past it and look towards the light.
Do you believe in Satan? I know most religions don't want to talk about "he who shall not be named" but I Do belive in him, just like I believe in God and I think soemtimes it's important to realize that he hates us.
And frankly, I hate him. 🙂