When we were going through this whole ordeal it was SUCH A mess… I was talking to my loan lady (more on her later) and she said that you want to look for the 10% of people who are REALLY good at their job, and just deal with them. So, here are the people I found along my way who were amazing for our move.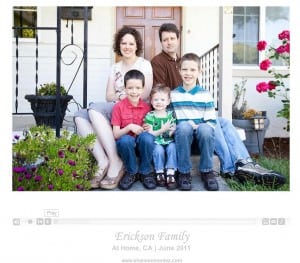 While Shannon wasn't actually involved in our move, I knew that I wanted photos of our home before our move. So we could all remember what life was like here in lovely California. This is just meant for a nibble for all of you because the actual photos are on a lovely slideshow here. Ok, a little emotional moment… do you know what it's like to get good photos for all your friends of their family/children/newborns, etc. but not really get them of your own? Ok, I got a lot of good ones of P, but ones of myself were sorely lacking… and Shannon has made that dream come true. The one with the sun glare… that's pure Shannon. BTW, who got skinny? I hardly recognize myself in the above photo! Are you looking for a photographer in the bay area? Sure, she's not cheap, but she will make your family look like they look to you. She's amazing. Love her. Call her, book a session, you won't be sad that you did.
Our realtor in Santa Clara was AMAZING. She priced it right, she went through 2 other offers backing down just to get it so it'd sell and be DONE with it. Here's the best part of her. She's aggressive and wanting to get you what you want… but she's not the type that will push you to get something you don't. She totally understands how adding 30 bucks to your mortgage payment can make a big difference to your family. She's the best. Love her. 🙂
Our loan lady here has gone above and beyond. She held my hand the whole time. I called at least 20 banks and they all said we'd either couldn't qualify because of the move, or we'd have to do FHA, or my parents would have to co-sign. None of which were viable to me. She was the ONLY one who could do it the regular way and we closed in just about 3 weeks. Amazing. She constantly told me to stop worrying. AND, here's the most amazing part. She watched our kids when our movers came for like 3 hours. She took them to the pool, they went to the mall. She just saw that we had no family here and we needed help, and she filled that need. A-mazing. Seriously, when I saw she was offering to watch the kids…. well, let's just say it was a tiny miracle. Feel really blessed to have found her.
Of course, there were other great people who helped us with our move… but these 3 really stand out as being amazing, and I just wanted to share. 🙂