Today as we were playing our family game (we try and plan one family game every Sunday), I realized that there are just SOME toys that we have that our kids just LOVE, and we love them too. So I thought I'd post a few of them this week, in case you have grandmas that are wanting to buy your kids gifts, or if you're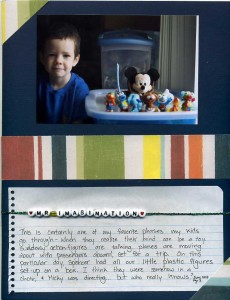 stumped yourself.
Anyway, today's game is
Whoonu
. It's actually the one we were playing today. There's a stack of cards, and you have to pick the cards out of your stack that you think a certain person will like the most. I just read Spencer's aloud to him, and he picks his own (although it's not a surprise to the person who we're ranking them for). It's interesting to see what he thinks I like the most.
Anyway, it'd be interesting to see your families love as well, so I tag everyone to put their top 5 favorite toys/games on their blogs. 🙂 I'll try and figure out 4 more for the week as well. '
And a layout for the record books. Not only am I totally using my stash (hello letter beads and fibers) but this is the beginning of album #21. Go me.