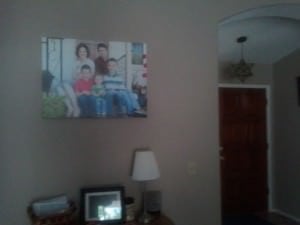 Remember when my amazing friend, Shannon, did our family photos? Well, it took a while to settle in and figure out where I wanted a canvas, but I figured it out and got it printed at Costco. I ADORE it. I got some other enlargements, but somehow Costco couldn't find those so I still need to work on them. But I love the canvas. I got another one back when they were new, and I had so many comments. I love a good frame, but the "art" feel of a canvas is pretty cool. BTW, I'd highly recommend Costco. Our last one was from Canvas on Deamand and while it was good, the colors were a bit off. I'd say Costco was more spot on and they have a secondary wood backing that I like to keep it all in place.
I'd mulled over getting high speed Internet phone service for a while. I'd had a lot of friends get it and I sure didn't like that my land line phone bill kept going up and up. BUT, I wanted to save my phone number and I worried about 911 and having a phone in a power outage, or an emergency. BUT, when we moved here I threw all caution to the wind and bought Ooma. I actually bought it on woot, for like 140 or something. Anyway, for basic phone service it's great. We now have caller ID (we didn't before, I know, dark ages). I can block callers (which was great when I accidentally tried to get life insurance online, why do I do stupid things like that?). I can listen to our voice mails online. It's pretty fantastical. It does have 911 service, because my address is tied to the line now, so if I were to call 911 it will show-up where we live. It does need Internet and power to work though, so in an emergency I just need to hope one of my neighbors has a landline. Or, that my cell works. Or, that I can adequately send smoke signals.
I will have to say that my inbox is what got me and all these papers through the move. Thanks to Mind Organization for Moms (I swear I'm gonna get past the first step any day now) I am fully converted to an inbox. It was SO great to have a place where I knew papers could go and that I'd go through them when I had a chance. My and the kids are self insured down here so I had a MOTHERLOAD of paperwork from that. Feel. the. joy. I do have a filing system downstairs but I needed something that was convenient for the kids and me and well, this works. I like that system. I really need to get to step 2 or, is it 3?