Mondays are a fun filled day for me. I feel a rev'd up from the weekend. I don't actually do a whole lot of cleaning on the weekends but on Monday I am ready to tackle the world (again, your system would need to take into account when YOU feel that way). Monday is all about the kitchen. Weekly jobs include:
Clean the stove

Clean out the fridge

Sweep and mop

Plan the menu for the week

Clean out my inbox

Plan Family Home Evening (see they're not all cleaning jobs)
Wash: I wash whites and kids clothes on Monday. Conner sorts out their clothes and puts all the whites together and I do them all together. I do all the kids clothes together, but this is getting to be a larger wash load and I may need to re-consider… I'd love to hear anyone else's wash load plans.
Kids Jobs:
C cleans the counters with an antibacterial wipe (that's right, move EVERYTHING and wipe UNDER it)

S cleans the front of the stove, as well as some windows and our glass in our living room furniture.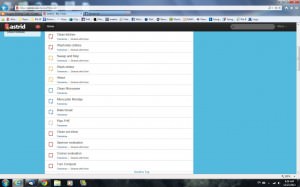 Now the nitty gritty. Usually how my Monday morning runs is like this: I do my 10 minute tidy and then I then put 20 minutes on a timer. I then do the kitchen. I clean the stove (we have a ceramic stove, so it really needs to be done with its own special cleaner once a week — I don't love it, but what's a girl to do?), I clean out the fridge, I do a rub down of the sink. Then I am on a rotation around the kitchen to then organize stuff in there for the remianing minutes. Sometimes I have a drawer/cabinet that just is screaming to be organized, so I will fix it, but sometimes I just keep plugging my way around the kitchen (clockwise) pulling stuff out, cleaning it and then putting it all back in. For instance, I just did the whole fridge. I brought out all the shelves and cleaned them off, and wiped down the sides. It took me like 4 weeks to finish the whole thing but I feel like the 20 minutes is doable so I just stick to that. Then I did the freezer, and the next week I did the cabinet above the fridge. Next I'll move onto the cabinets to the right of the fridge. Unless, of course, my pots and pans cabinet is causing me angst, and then I'll do it, instead. The key is getting the things that HAVE to ("have to" is more in my mind, but a super dirty stove drives me nuts, as does a cluttered fridge) be done first and then organizing with the time I have left. Sticking to the 20 minute limit makes it seem less overwhelming and doable. So, it works for me. I bet you're sitting here thinking that 20 minutes wouldn't even make a dent in your kitchen, but I bet if you did it weekly and really stuck to it you'd notice a difference. You might need to start with an hour to get you at a decent starting point, but then start 20 minutes each week. Just make sure you're focused on those 20 minutes (I often do this while P is eaing so we can chitty chat but I can stay focused on what I'm doing as she's occupied).
Then, after throwing in some laundry or doing lessons with Princess P I get her playing on her own or (gasp) watching TV I sweep and mop. Once a month I steam mop the whole thing. This
is,
infact, my steam mop. I used to have a shark one that I REALLY loved, but the steam jets kept getting clogged so I returned it. I also love how versatile this thing is. You'll see it used a lot in my continuing weekly plans. The other 3 weeks I just use my rubbermaid mop. The steam mop is kind of a lot of work to get out and make work and all that jazz, so hence me only doing it once a month. I do think it does more for the grout then the rubbermaid mop so I keep doing it once a month. We have a LOT of tile. I'm guessing at least 1000 square feet, so this is a pretty big job. I know, some of you with mansions have it worse off but by the time I'm doing mopping our tile I am DONE. H-E-double hockey sticks, DONE. 🙂
Repeating jobs: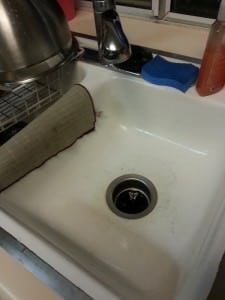 A clean sink is just a happy thing. Not sure
why, but it totally is. 🙂
Clean the sink — I deep clean the sink with comet every 4 weeks, thowing out the sponge when I'm done, because a wipe down of the sink is done every week I'm able to just throw this into the 20 minute tidy.
Clean the microwave — I boil about 3 cups of water with baking soda for about 5 minutes in the microwave, let it sit and then clean out the whole thing with the steam that's left over. Then, I was the rotating dish and clean off the front. This does a great job of cleaning it without having to use any cleansers around where I prepare food. I usually put this in the microwave while I'm doing the 20 minute tidy and then clean the microwave after my timer rings. I also use the baking soda water with some vinegar to clean out my drains of the sink.
Steam the counters. Once a month, Conner gets out of his job of cleaning the counters and I steam clean them and the backsplash.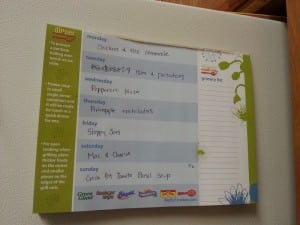 So, by the time all THAT is done I'm ready for some more "administrative" tasks. I sit down and plan my menu. I have a little magnetic post-it note thing in my fridge that has the days of the week and I just plop something in every day. We don't always eat it ON that day but that gives me 7 items that we have ingredients for that we can make during the week. Then, each morning I just pick something off the list, get whatever we need out of the freezer and run with it. I try to do one night of chicken, one night of fish, a mexican night and Sunday is usually a crock pot meal. Pizza (in its varying forms) is almost always on the menu. Also, because I don't make dinner every night of the week (on the night I work, Drew doesn't follow my plan, he comes up with his own thing) I usually have some "leftovers" to put on the next week. We also usually go out to eat one night during the week. It's my saving grace. 🙂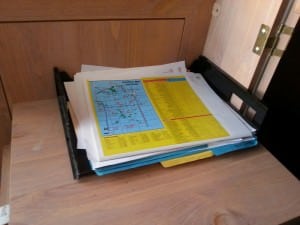 I also go through my inbox. It's a place that kids put notes during the week (they know if the note needs to be returned ASAP to give it to me in person, but if it's something that can wait, it goes in the inbox) or I throw stuff that needs to be followed up on. Right now it has a ton of envelopes from Christmas cards. I like to make sure that addresses haven't changed so I change them in my address book if need be.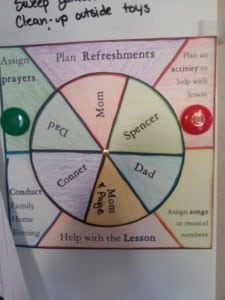 All during the day I'm mulling over a fun plan for FHE (Family Home Evening). We each have a responsibility and it's nice to not be in charge of the lesson every week but I try to do whatever my job is during the day so at least once facet of FHE is well prepared and thought out. One problem now is that Drew has class on Monday evenings, so I'm not sure what night we're going to do FHE… but we will be doing it. That's not a question.
So, that's my Mondays. Often some bread making slides it way into the morning. I really try to be home on Mondays so I can get a jump on the week, so it's a good day to make bread.
So, what's your day that you really feel like you could tackle the world? Try to put a lot of stuff on that day so you feel accomplished. 🙂