I adore Halloween, and I seem to just see a lot of posts about people who don't like halloween. And, don't get me wrong — there is plenty to NOT like about Halloween — the excess of Candy, and the pursuit of the excess of candy. The gross and disgusting costumes. How girls are sexualized so darn early with those gross costumes. The dark and how some people really like tricking more than treats. Those are all gross things. Don't even get me started on the spirit store…
BECAUSE I LOVE HALLOWEEN!!!
I really do.
When a tiny little person gets the will to walk up to a stranger and say trick or treat in their sweetest little kid voice and their best shiny costume on. My heart sings. I love that kids are willing to step out of a comfort zone and do something else. Spencer ignored dogs for last night. I was really proud (and this is something we really work on with him, so it was a big deal) I took P around and had a happy heart each time she told them thank you and Happy Halloween. Because 4 year olds get Halloween. At least, MY Halloween. 🙂
I LOVE the imagination of a good costume. Someone posted a thing on their Facebook page about older kids going trick or treating. It was written by a woman who felt her kids were growing up too fast, and some kids came and threw on costumes and went out. I'm just not a fan of older kids. Mostly because they are not a fan of the costume. And I, obviously, am a HUGE fan of the costume. If older kids come with a great costume on I heartily drop in their basket. But when kids come with a superhero on a sweatshirt. I'm just not impressed. Is it just me? That's not halloween, that's a greedy persuit of candy.
Anyway, back to great costumes. I, personally, don't think it takes much finesse to pull off a bloody mask, but to think of a favorite storybook character and bring that person to life, to personify that person. That just excites me!
Call me crazy!
I don't really even mind the candy. My kids don't get a whole lot of candy during the rest of the year, so I tend to let them go all out with their Halloween goodies.
Anyway, I love Halloween. I personally celebrate family, neighborhoods and creativity. Those happen to be 3 of my most favorite things. And if you think I don't love it. Here's some of my favorite pictures from the night. Until next year!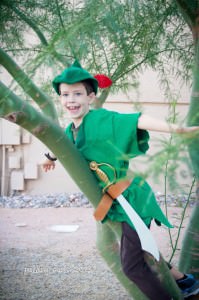 I adore this picture of Peter…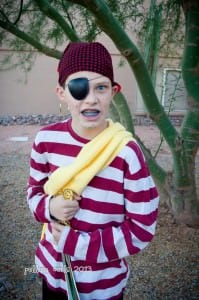 Without a whole lot of effort, I think this costume came out great!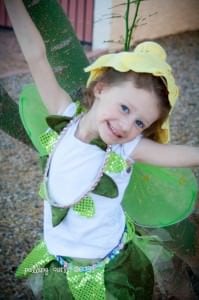 I am really going to miss having a preschooler at Halloween. 100%.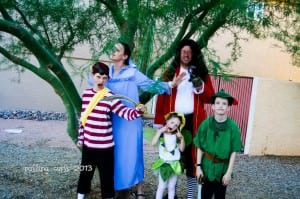 Crazy family.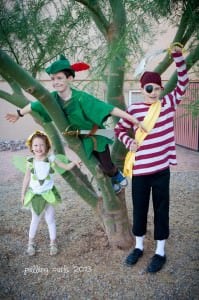 Adore this picture.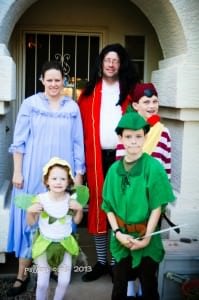 Here we are, the crazy lot of us! Wendy, Hook, Pirate, Peter and Tink!