I'm just not sure photo Friday is going to happen…. especially since it's Saturday. I even took pictures. I also did some actual photo shoots this week and I'm just bushed.
Photo shoots, you say, I thought you shut that sucker down.
I did. But if you ply me with enough love and perhaps the lure of a gift card I may be so tempted to shoot you. But not for a few more weeks. I've seen enough of my friend lightroom.
So, maybe I took Black Friday off. I didn't actually shop this year, so that's a good thing. I did, however work.
ANYWHO, enough about me (but did I mention I have a purse party this morning… please stop by if you'd like a muffin and some Just Dance)….
There is a WINNER in the grand Pulling Curls Giveaway….
And the Lucky # is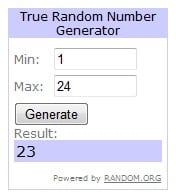 Do you think that's you? It might be… head on over to see who won!