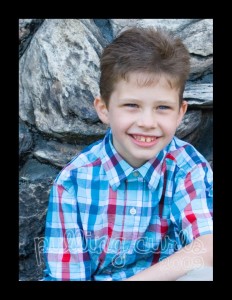 Conner is 9… and a whole lot of
nine
he is. It's not that he says no a lot… more ignoring than actually
acknowledging
that he's declining my offer to assist. 🙂
But,
anywho
… Conner is doing GATE (gifted and talented) at school, and is soon gonna start up with Math Olympiad as well as the Future Scientists and Engineers of
America
(
FSEA
) clubs (I know — I might as well buy him some glasses with tape on them now). He's doing pretty darn well in school, but as I think I discussed previously – he's having problems with a few things. 1. Reading things that aren't just fun reads 2. Finding a way to get all the "details" done. 3. Finding meaning in both his life, his reading, and his writing.
First off, I'd love some ideas of books your boys really enjoyed that were more plot-driven and deeper meaning than say… Captain Underpants (which, if there was an idol in our house, he might just look like our underwear-clad friend). I know, most of literature is a bit more plot driven than that, but I hope you get the gist. I got a couple at the library but it's hard to force him into stuff. The teacher was going to provide a list. We're hoping to alternate between good books, and the complete trash I've been letting him slide by with up until this point. I feel badly that somehow happened. I think it's because he was an early reader and so we often got some crappy chapter books
becaue
he wasn't really ready for the plot-driven stuff in 1st grade…. as always, I blame myself.
Secondly, I think that finding the details is a problem everyone has. I've noticed it's so easy to call your house clean without it actually being that way, things left out, counters with tiny bits of yucca on them — things like that. It's getting those small details done that make it seem so deliciously clean. It's like that in all areas of our lives. Cooking — it's making sure all the ingredients are placed in the right order, amounts, location… it's all in the details. I'd like to do some activities with Conner where we work more on details (and I think cooking and using a recipe is a great way to start — so many things can be taught that way!). Does anyone have a great kids cookbook (needs lots of pictures and stuff that kids can practically make on their own -with assistance with stove work, etc).
And finally — finding meaning. I've really thought a lot about this. I mean, I have never thought my kids to be spoiled. They get used clothes, they are constantly being told they can't have stuff because it's not on sale (
that's
not to say that they never get the item — I just scour the ads til' it IS on sale and buy it). However, they are spoiled in the fact that I'm here most days, Drew's very supportive, we have supportive friends and grandparents. My kids rarely want for anything that is an actual physical or emotional need. They also don't have have many friends that want for anything either — they feel like having a mom, dad, house with good
stuff
and good food is the norm. I want my kids to get the meaning in life. I want them to realize how lucky they are. My kids have no idea that someone might have empty cupboards. How do you get your kids do realize these kinds of things? I try to point it out, but I think it's impossible to get. I know I had no idea how lucky I was as a child. I'm not sure I'm ready for the homeless shelter visit yet. Anything in between now and feeding the less-fortunate?
Anyway, that's a nutshell on what we're working on with Conner. He's such a solid kid, with a bright future in front of him, I just want to enhance it a bit. 🙂