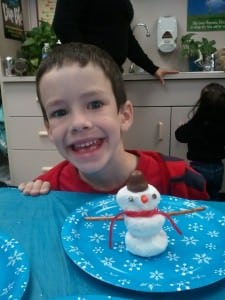 Mr. Middle had his holiday party this morning. Yes, we still have 2 days left of school, but she said that she likes to do it on early out day so she can send them to specials and then home (Specials are our "extra" classes — library, music, PE and art). It is nice to have it "over" with. I loved this little craft where you use doughnuts to make a snowman. Super easy! And, it doesn't involve frosting. 😀 Me likey. Mr Middle has also lost his 2 front teeth (bottom, he's lost those first– is that normal?). However, the other 2 teeth were in at least 1/4 before he finally lost them. It's a pretty big deal around this house.
El Presidante has had a few good days, I must admit. I'm trying to remind myself to REVEL in the good days with him. He and I have started watching One Upon a Time together at night. So far nothing's been too racy, and C really likes fantasy so it's right up his ally. I was thinking of something we could do together, but I'm SO tired after the other 2 go to bed, this one fit the bill perfectly.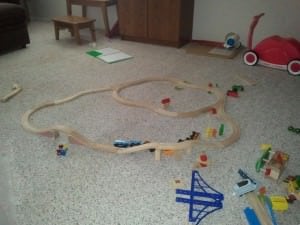 Princess P is starting to read! It's pretty minimal, but she can read cat, rat, hat, and sat. Just sounding it out. She's a crazy little thing. She and I just spent some quality time doing "trains" together. I am really enjoying our time together in the mornings, especially as she gets more and more into imaginative play. Love that.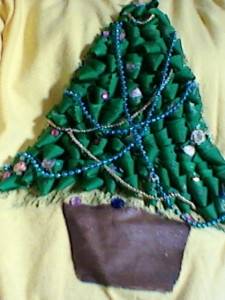 I'm really trying to focus on quality time with each one. I'm trying to read with Spencer and work on times tables together. I really think it makes a difference, and I can slyly slip in a few things I wish they'd work on better. Who knows, but I feel like it's working. Does it happen every day? No. Especially when I work, but 3 or 4 times a week is enough…. I also wore my super festive and awesome holiday shirt to the class party. It's amazing, no? I need to get on the holiday train and get on the wrapping, etc. I'll get right on that.
Drew had some really great concerts last week and is feeling the joy of the semester winding down right now. I think we need to figure out our outside Christmas lights asap. He's ready for that challenge, I think.
Hope everyone's enjoying their family this time of year. I know I am!