Princess P is a new person every day. You never quite know who's gonna peek her head out that door. I love how she rubs her little eyes and asks to have milk and a cuddle on the couch when she wakes up. I know that's not going to last much longer and I need to drink it in every day it still does.
Reading is happening. Reading is such a process and perhaps I push it a bit so it takes longer then usual but all the sounding out and the sight words. I remember I was REALLY frustrated about 5 months ago and we've grown a lot since then. It's just something you have to keep plodding foreward with. A good lesson for all of us.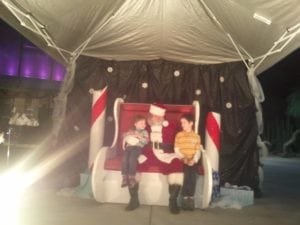 Princess P went to see Santa the other day. She just went up and hugged him, for probably an unfortunately long period time. She loves that guy so much. She has her heart set on a dollhouse and a new dolly. Love that those things are on her list. I waited long and hard to have dollhouse wishes on someone's list around here. 🙂 I thought she might be nervous to go up and see him but she bopped right up there. My brave little girl.
Naptimes are doing a little better. I have her go down for "quiet time" regardless of if sleep happens or not. She sometimes comes out but I'm just trying to be persistant with putting her back in her room and it seems to be working. Mostly.
Persistance is the key, am I right?
I am not going to have little people around much longer for Christmas. I need to soak in each Santa-loving moment. 🙂