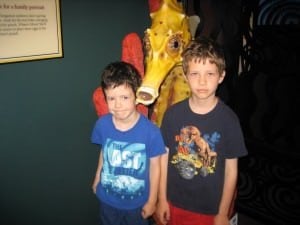 What's up around here?
Well, let me tell you!
1. We went to the Monterey Bay Aquarium, and in fact we bought a memership because it's so darn expensive to take us anyway, it was only like 20 bucks more to get benefits for a whole year (plus two months because they sent us a promo thing). They have a new exhibit on seahorses that is REALLY cool. I highly recommend. I'd never seen so many, very cool. Also the regular trip to Bubba Gump's. Yum.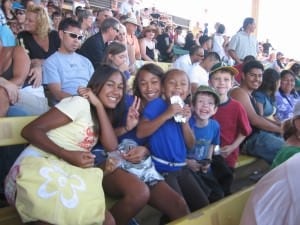 2. We went to the Alameda County Fair. We'd been to our own county's fair a few years ago and it was a HUGE loser. This one was pretty neat, and we had a nice time. We even went with D's cousins and it's nice to hang out with family. I know, no one knows we have family here… but we do. And frankly, we need to hang with them more often. S and their daughter have a great time together. They even have free horse racing. I'd never been to the horse races before and it was pretty fun, even though we didn't bet. I know, you were all worried.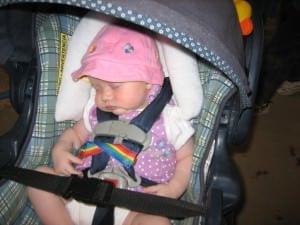 P is pretty good at being dragged around to all this stuff. She is now sleeping through the night more nights than she's not sleeping through. So many people at the aquarium were all over how cute she is. She really is getting to be an alert little thing, although you can't tell in this fine photo. Still on the docket is the Academy of Sciences, I think we'll go in a couple of weeks. I'm still working a lot. Today was a pretty heavy shift, I am glad, glad, glad to be home.