While I was gone 2 things happened.
1. Our garden has turned into a jungle. Drew and I went out and made an attempt to recover it… but when live in sunny CA — and there are days that it hits 106, I guess you get this: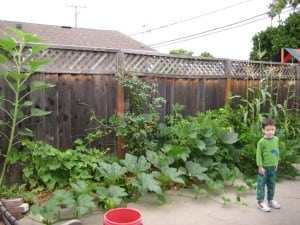 In this picture you'll see (starting on the left bottom): Watermelon, Sunflowers, Cucumers, peppers (almost being suffocated by the pumpkin), roses, zuchini, tomatoes, PUMPKIN (that's the giant vine that's in front of everything — it's actually planted to the right of the corn), corn. Anyway, it will be interesting to see what ends-up happening. Things seem to have taken off though, and that makes me and my little drip system happy.
2. I gained 5 pounds. It's SO hard to eat consciously when you're amongst friends, and stuffed breadsticks, and BO garlic bread. Anyway — I'm back on the wagon today. I even worked-out before Drew and I went and did yard work for 2 hours. I find that I have to remind myself that I am NOT a garbage — and that the food might as well go in that then in me. Regardless of this ugly little recession we're in.