It's only 10 am and I've already tried to cure my crazily growing tomato plants of white flies and I fixed a fountain in my drip system.
Horray.
For the white flies I took some yellow cardstock and coated it in vaseline.
Yum. right?
Then I stuck it into the cage. I did that about 2 hours ago and just now there's probably 20 white flies stuck to it. I am hopeful it does some good. I guess, after doing some internet research, that white flies suck the juices out of the tomatoes.
And I need juicy tomatoes.
need.
Here's how I did the "trap"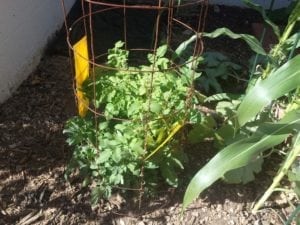 And because what's a blog without some garden photos. Here's what the garden is looking like right now. The stuff on the far right is butternut squash. That plant's gone insnae, we have like 8 or so already!
We have some seriously growing jalapeno peppers and the egpplant is still cruising along. Yay.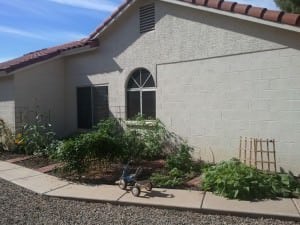 Our tomatoes didn't do so hot this past summer, so I researched it out. The leaves were all curly and kinda leather-y looking so I added some calcium (by way of Gypsum) to the soil and my fingers are now crossed. I also added a couple scoops of compst to each area where I planted. Hopeful to see good things soon! Don't forget to vote for #32, and get really excited to see what our costumes for THIS year are going to be!