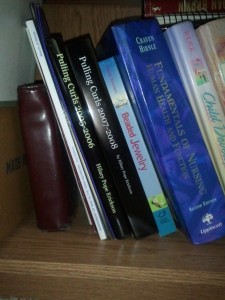 Those Mormons, they're just full of their records. And this is mine.
Well, this is part of mine.
I actually have 1 journal for each child also, that I write in monthly (I can't tell you how important this is, and I write a lot of stuff I would NEVER write in my actual blog — like how stupid they are sometimes, and silly things that they don't need published all over the world). I also have my own journal, and I am trying to continue to scrapbook (which I should be doing now). I definitely reserve my journal for more personal thoughts, gripes, etc…
But this blog is definitely a record. I print it bi-yearly (because the more you can get in a book the cheaper it is). I have printed it through blurb, and I am actually up to print it again.
My books are pretty amazing, I really love thumbing through them and reading the old entries. I mean, I write a lot… and it shows a LOT about who I am at a certain point. I love that.
I would hope that my kid will love to read them at some point, and remember what life was like when they were little. There is something delicious about having them printed, I will say. I love them, and even though each printing costs about 100 bucks, it's totally worth it.
Have you had your blogs printed? Thoughts?
P.S. Why on earth do I still have nursing textbooks? Someone fire me.