Does anyone remember this layout that I did last year?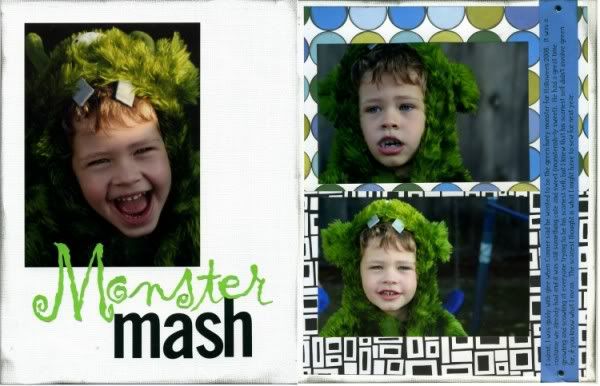 Well, the scary part has begun. Conner has chosen what he wants to be for Halloween. I made him make a serious choice, and he won't be changing because the fabric is bought. He wants to be Luke Skywalker, and I thought that was fine… thinking of what partner in crime I could give him, when I realized that Spencer would make a GREAT Yoda.
So, Drew and I foraged out to the Fabric Store to look for patterns, and see if this was even possible. I came home with THREE patterns, and I actually had to order another size in one of them when I got home.
Anyway… For Conner, I'm going to use this pattern. They had some that were actual Star Wars type patterns, but they looked REALLY hard, and if you'll notice this one says "easy". I'm gonna make the jacket a little big, perhaps make a faux leather belt type accessory, make the pants pretty small and then do something on the legs to make them look like Luke's (we're going for his "boy" look).
For Spencer, I got this pattern. I am particularly fond of it. It also has the word "easy" on it — and if it ends-up actually being easy, I can see Santa bringing a similar robe somewhere down the road. I'm doing this in a camel colored fleece. Then, I just need to find a black or dark brown t-shirt to go under, and we already have some brown pants. Now, for the hard part, which will require imagination, AND every seamstress skill I can muster. I got this one to use for the hat pattern. I think my big plan is to take the basic cat hat, make the ears all the same shade, make them about 3 times larger, and pull them down on the hat so they're just set above the eyes. I'm also going to thread wire in them and stuff some batting in them…. because I'm fancy like that. I'm also going to try and sew some "wrinkle" lines into good old Yoda's head. Maybe I'll put a little batting in the top part to help me with that. Anyone have any skills in this arena? Oh, and peeps … did I mention this hood is fully lined?
Kill me now….
Anyway, that's pretty much my plan until Halloween. I'm hoping to get a piece done/ week, or every other week, and then leave all the really hard stuff til' my mom gets here. Right mom… you're coming…. RIGHT?