My New Years Resolution started when we went to the Salt Lake Temple just after Christmas.  I had wanted to bring my kids up because the lights around the temple are amazing, but I knew that what I most wanted was to do an
endowment
session in the temple.  Drew and I were married in this temple (the day we were there, there were probably 70 weddings that day!).  To make it even more vague to all of you, the Salt Lake Temple endowment is done live, and in the other temples (except 1) it is done via video.  It's just a different way to learn, and I think anyone who knows me knows that I don't even go to movies becuase I am immediately fall asleep.  I was really excited to go back and learn what was important for us.  During the live endowment we travel room to room, starting in the
Garden Room
 (the site I am linking to has pictures of each room — while those who do not hold a temple recommend are not allowed in the temples once they are in use, prior to the dedication of the temple, all people are allowed to tour, and in this case the church releases pictures of the temple's rooms to the public).  It's so peaceful and beautiful.  Then, you travel to the telestial room (seen top right).  Initally when you sit down you think is also a fairly lovely room.  It has great artwork on the walls, the chairs are nice but then you look closer.  I'm not sure if you can see it, but the animals are all fighting.  Even the vegetation is fighting!  The trees roots are fighting for soil, the animals are fighting for who knows what reason.  I just felt so much contention in this room.  I realized that our house is similar to this.  There's yelling, crying, complaining, and heavens knows there's  great deal of whining along with ALL of that!  I knew then and there what my resolution was going to be.  We need to stop the fighting.  Of course, there will be conflict, but we need to learn how to deal with it in respectful ways so that we can keep happiness and peace in our home.  More on my resolutions later…
Of course, you continue through other rooms (they do portions of the endowment in each room, so you see a little part of the "play" and then move to another room).  It's amazing the spirit in each room.  How it changes!  After the telestial you go to the
terrestrial
room.  While in there I was trying to remember what the celestial room looked like.  Drew and I were about 2 hours early for our wedding, and we spent at least an hour of it in that room waiting for our moment to arrive.  As I sat there I thought that it was pretty similar to how the clestial room looked.  After all, the terrestrial room is quite beautiful.  It has ornate carvings on the pillars and amazing hand work of fruit and vegetation on the moldings.  It's lovely.  Then, we entered the
celestial
room.  I got tears to my eyes.  It is simily so much more beatiful and amazing than the terrestrial room.  I also remembered the sweet time that Drew and I spent there just waiting for our turn to come, to become an
eternal family
.  We've only been back inside that temple once since our marriage and it was just lovely to be there.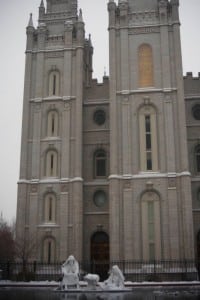 It also taught me a good lesson on the "kingdoms".  In short, LDS people believe you will be judged by God and sent to one of 3 kingdoms when you die.  The Telestial is the lowest kingdom, and then the terrestrial and then the celestial.  Sometimes as this world gets you down you think that the Terrestrial won't be so bad.  I mean, there will be plenty of good people who go there who do good things… but to realize what you will miss out on if you don't make the best of decisions.  Well, it makes me want to be better.
Here's some other pictures of the grounds around the temple.  It's actually called "Temple Square" as there are also a couple of visitor's center, the tabernacle (seen below, that's where the tabernacle choir gives its broadcasts), the conference center is across the street.  It is very large and where very large meetings are held (like general conference).  The grounds and beautiful and they do a lovely job decorating them for Christmas.  I was sad that my kids couldn't come see it, but Drew and I had a nice 10 minutes running around trying to soak it all in before we froze (or I broke my tailbone again).  I don't know how the pictures didn't capture it, but it was snowing pretty heavily that day.