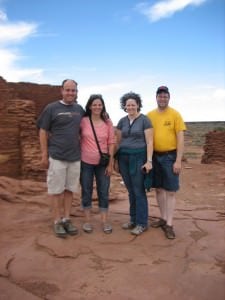 This past Saturday I met my old roommate Kendra up in Flagstaff. I swear I haven't seen her in more then 11 years. She lives in the northwest and we just haven't met up at any point, which is sad. But true. I met her my freshman year of college, which was a difficult year for me, to say the least. I found a friend in her when I needed a friend the very most.
There are times in your life where you meet "game changers" — friends who change who you are and how you think about the world. Kendra was definitely one of those. She was so sweet and soft spoken, most things that I'm not. She was considerate and kind. She was the relief society president, and I am not sure I even had a calling. I'm sure I did. Maybe I was an FHE mom… maybe?
Countless hours of laying on our beds (we shared a room for 2 years) thinking about getting married and what our life would be like as moms. If we'd ever find mister right, if the guy we were currently dating, or hoping to date was "the one" — it took up a fair amount of our time. Kendra was actually on the list of names for Princess P, but it didn't fit.
And poof, we both got married and had babies and those times were so very long gone. I don't get to sit and daydream any more (frankly, there wasn't a whole lot of time for that back then, but we did our fair share). On another note, isn't college amazing? I wish I had treasured it more. All that time to just think about yourself. Oh man do I wish I could go back (no nursing school though, one time was plenty of that, thanks so much).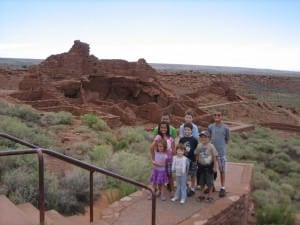 Pueblo Wupatki — I think.
And as I sat there and watched our daydreams in real life playing together in the warm Arizona sun I realized how lucky I was to be blessed by her.
And, as I looked at El Presidante, who started 7th grade today, I wondered if he'd find the game changers that he needed, to soften him, or to buoy him up. How will God bless him with the people that are around him? Will he choose the right people? I do think that God sets us up with the right people at the right time, but it's our turn to get to choose if we befriend those people. I wonder what my life would have been like without that game changer.
That isn't to say that I haven't had a few more game changers in my life. They're somewhat rare. I think we tend to seek out people who are so similar to us and make such an easy friendship there isn't much changing that happens. Sometimes it's the friendships in which we struggle or at least struggle to see their point of view in which we change the most.
Anyway, it made me really introspective on the ride home. Just grateful to have had her as a friend and feeling so lucky. Hopeful that my own kids will get friends like that.
Hoping their lives won't end in ruins like the ones behind them. 🙂 Friends can do that, you know…