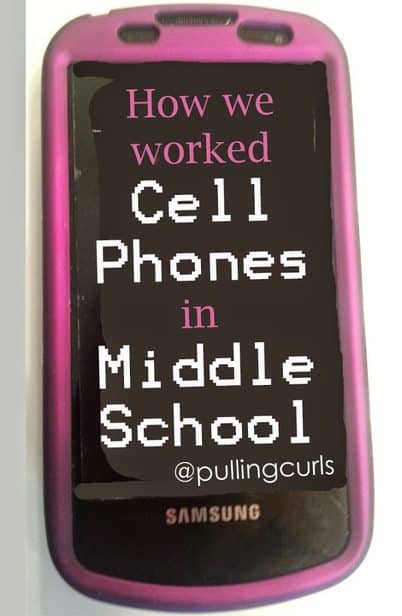 I have seen cell phones (and technology in general) ruin lot of kids. I am anti-smart phone for kids who aren't in college. Take that for what it's worth. We'll see if I'm still on that wagon in a couple of years.
BUT, when Conner was in 7th grade I like we needed an extra phone just to have around when they go somewhere. I remember a LOT of times being at a party, or at a place, just wishing I could find a phone to call my mom. I knew technology could help that problem.
I did some research. I asked on Facebook. It seemed like a 20 dollar plan was my only option. It isn't.

We went with T-mobile pay as you go. We put 10 bucks on it every 3 months. That gives them 30 minutes of talk time, or 100 texts, depending on how they use it. I have made it very clear to both my phone users (because Mr Middle sometimes uses it too) that if they text or talk to friends on it, they will be paying for it. The phone we bought was about 20 bucks at Walmart. It's just your basic flip phone, and it gets the job done, without kids wanting to show it off. There are times that Conner will keep it in his bckpack for the week. During the play, it was mostly with him, but I term it as the "extra phone"so no one gets comfortable with it being their own and handing out the number.
We have a home phone. I think, if we didn't have a home phone, things would be different. I have a strong urge to make him make phone calls. I don't love all communication via text. The home phone provides away to keep verbal conversation up.
I do see this changing as C enters high school next year. I am guessing a cell phone will be in his birthday pile. It won't be a smart phone — at least not via data networks, and I do plan on it being a pay as you go variety, that he can load up on his own, with me supplementing for the times I want to get hold of him.
I asked he principal at the middle school once how many kids, she thought, had phones. She said 100%. Obviously, she was wrong, but it is something that we need to deal with and have a handle on.
Anyway, I just wanted to write this blog to mention there are other options then 20-30 bucks/month smart phone we hand over with unlimited data — if you're not comfortable with that. Which I wasn't.
So, why did you get your kid a smart phone? Are you happy/unhappy you do so?