In this post we're going to explore packing for Disneyland, as well as my new quest to pack light when we head on any  family vacation. Disneyland has a few unique tips, but anyone can learn to pack light for their family!
Guys, you just never know if there's going to be a snowstorm, a monsoon or maybe snakes will drop from the sky.  I'll need snow gear army-grade ponchos and obviously anti-venom kits with me.  Right?  Sure, the snakes might be a bit of an exaggeration, but I sometimes feel like I am packing for ANYTHING when we head out on vacation.  As if there isn't a store within a mile where I can buy anything my heart desires.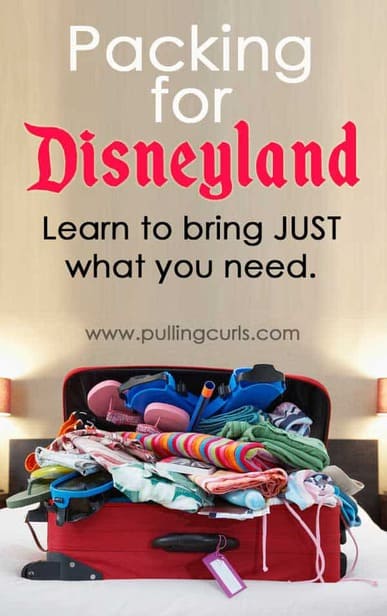 Packing for Disneyland can be tough.  You don't want to waste walking time by having to head to the store for something, and you're out in the elements all the time, so you do need a good amount of preparation, but I am REALLY working to slow my flow on all the stuff I bring.
---
Looking for more Disneyland tips — don't miss this page with ALL of the great tips I've found on all our trips! [Read More Here…]