Hello Curlers, I'm back with a beauty Haul from Amazon.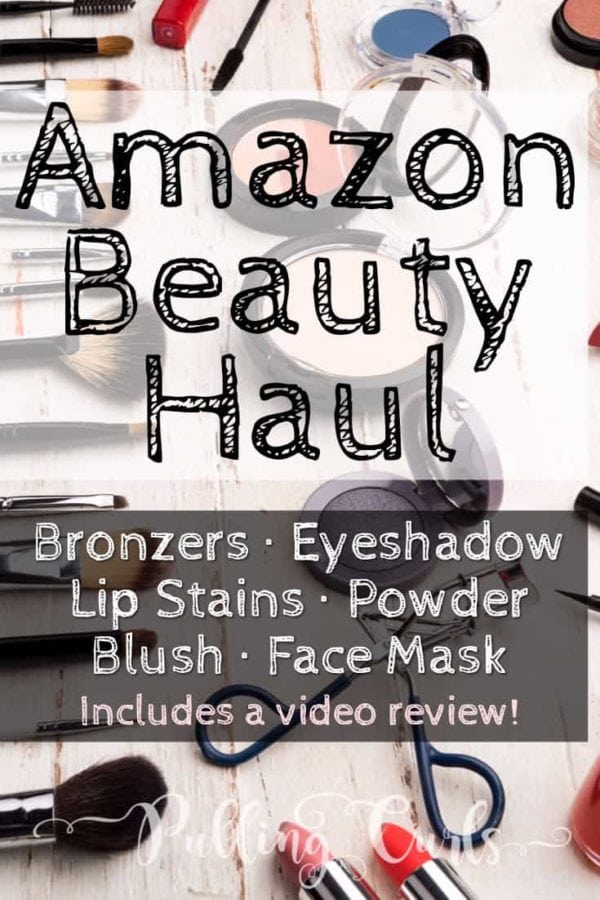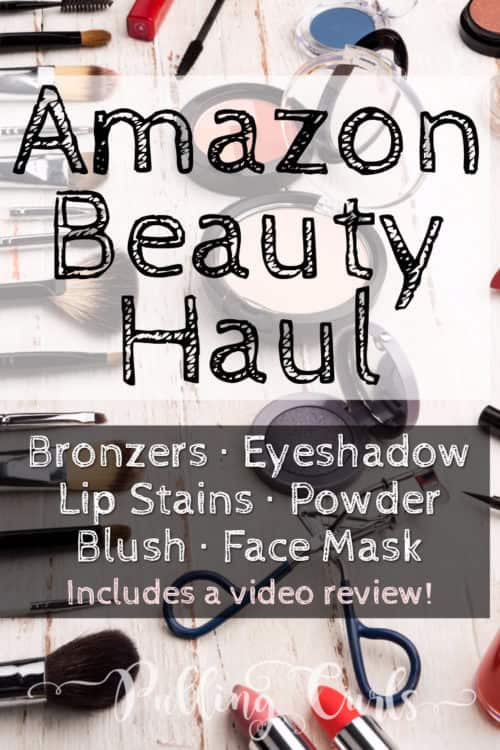 I was in ulta one day — trying to figure out their sales (on the last day of the sale, of course) and combine them with the coupons I had in hand.
Of course, everything I wanted wasn't on sale, but I thought I could make it work.
I had a list of things I wanted to try — but half weren't in stock, and many's packaging had changed so I wasn't sure it was the same thing.
The sweat dripped down my back as I tried to figure out what to do.
I bought a few things, for more than I wanted to pay, and I left.
Only to come home and find out I bought waterproof mascara…. #fail.
So, I returned it all and figured I'd never shop there again.
Those ladies in black get me all tensed up. 🙂
Today I present an Amazon beauty haul that I bought from the comfort of my couch on my laptop.
I don't recommend buying things that need a good match on Amazon (unless you already know your shade) but for a LOT of things the price is really right and I'm excited to share them with you:
Here's all the items with a quick reivew:
Amazon Haul
Phone Case
I LOVE Caseology cases. I think they look great, they're great protectors and the price is right. I love how slim it is! This is the one I bought.
Essential Oils
I used to buy Doterra, but the price, the MLM nature of it and having to find a distributor made me look elsewhere. So far I've bought a few on Amazon (see my other hauls below). This orange oil smells delish! I love using it in air fresheners around my house.
Lip Stains
All my friends were RAVING about Lipsense lip stains, but again — MLM, finding a distributor and the price is INSANE. In this post, I talked about the Maybelline, but I was wanting to try a couple of new ones.
Revlon Color Stay I REALLY like the color on that one, a very easy-to wear color. 🙂
Rimmel Provacalips: This is a very pretty "bright" red – I like it (but I find that lip color may just be too much for me except for special occasions).
Related Post: Makeup Organization
Blush Set
I was looking for a good blush set, and I liked the price of this one on Amazon. It gave me a lot of colors to try (as I hadn't tried a new color in YEARS) and it's helping me figure out what I DO and don't like — it's got a good amount of pigment, and blends OK.
Cream Eyeshadows
I tend to just suck in any eyeshadow that I wear, no matter how expensive it is. I really like the staying power of these cream eyeshadows. They are SUPER glittery, but I like that look anyway. I often use them as primers and then put other matte shadows over it.
There is also a bit of glitter fall-out from them, so FYI.
Mascara
The people on the internet are RAVING about this one — so I definitely wanted to try it.
I say it lives up to the hype. I like it a LOT and the price is great. This is drugstore brand, so if you watched for sales you could get a great price on it too!
Face Masks
I'd wanted to try one of these for a while. These are an awesome price, but I feel like it's a "get what you pay for" type item. Does anyone have a mask that they love?
Powder
This one gets HUGE reviews on Amazon — so I wanted to try it. It does give my face a matte look that stays all day. The smell is a lot — very "old lady" for me — but it does go away. I think it's good stuff (I think I still like the Rimmel Stay Matte better not sure I love loose powder in general due to the mess) #cleanfreak.
Bronzer
I really like JamBeauty with Jesscia Braun. She adores this bronzer. I guess, maybe, I don't understand bronzer. I love the smell of it – and it's not overly pigmented (which is good for a white girl like myself) but I guess I need to work on my application. 🙂
Jessica seems to have a similar skin type to me — so her recommendations are usually good. I'll keep watching. 🙂
If you liked this post, get my 5 quick beauty tips, and check out my haul & beauty posts below that:
[pt_view id="d08bbafod4″]
[pt_view id="23ee41a1fk"]