This post is sponsored by the good people at Hylands 4 Kids. They have an innovative idea for when kids get hurt! All ideas, writing and thoughts are 100% my own (and amazing).
Tell me you've been there. You walk into that well check appointment you made 3 months ago for your 3-year-old and this morning you notice his legs are covered in bruises. Suddenly you have bruises with a side of 3-year-old, and you just hope the doctor doesn't think you've taken anything out on your sweet babe.
Because life is tough.
It's hard to learn how to use your body and do hard things. You tend to get banged around a little bit in the process. Child bruising is totally normal!
The thing is, for much of the ouchies in your child's life you won't need stitches or an x-ray, but here are a few things you can do instead:
1. Use a band-aid. If there's any sign of blood my kids go running for the band-aid box while screaming that they're bleeding EVERYWHERE. Turns out you shouldn't have a mom who's a nurse if you're looking for sympathy. Seriously, just buy the cheapest box and let it go. It saves you so much grief.
2. Use an ice pack. I keep last year's lunch ice packs in the freezer just waiting for the next bang-up. Wrap it in a dishtowel as you don't want the ice directly on their skin. As a bonus, you need to kind of sit down and re-group when you put an ice pack on. It's almost like a time-out that the kids don't think is a punishment. Hooray for ice packs!
3. Give a hug and a little tickle. Sometimes they just need a little extra attention. Usually I am good to provide that for a while, and then when I notice they're feeling better I will tickle them right off my lap so I can get something done.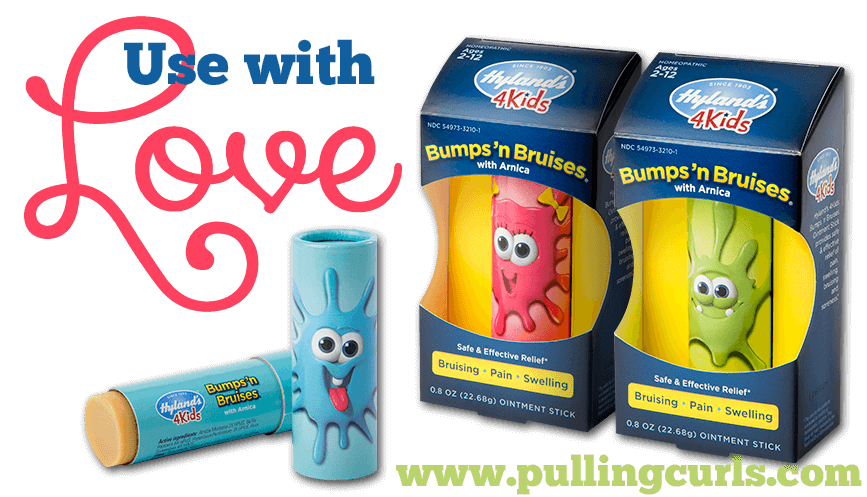 4. Check out this new Bumps 'n Bruises from Hyland's 4 Kids. I was THRILLED to get it as I have a daughter who likes to turn a bump into something that might need an MRI fairly often. Now, I can just rub the stick on and off we all go on our day.

I've also heard a lot of good stuff about their Calm Forte. I'm a believer in homeopathic medicine, and I think the good people at Hylands take children's health and well-being very seriously. This stick is even made with is made of paperboard which is 90% recycled, it's natural safe and effective. It's also free of paba, phthalates, dyes, petrolatum.
It says you should use it as soon as after the bump happens. The stick pushes up (kind of like a glue stick) and you just rub it on the affected area. It helps decrease bruising, swelling and pain in kids ages 2-12. The cute "splat" face on the front make it super kid-friendly!
This is a sponsored post written by me on behalf of Hyland's 4 Kids. The uses for these products are based on traditional homeopathic practice. They have not been reviewed by the Food and Drug Administration.