Being a mom is the hardest job I've ever had.
It's 24/7 and even though we pretend it ends at 18, I feel like I might find it even harder then…. with him gone from the nest.
I was in a recent church class where we were talking about the Grace of God.
That's a big phrase — isn't it?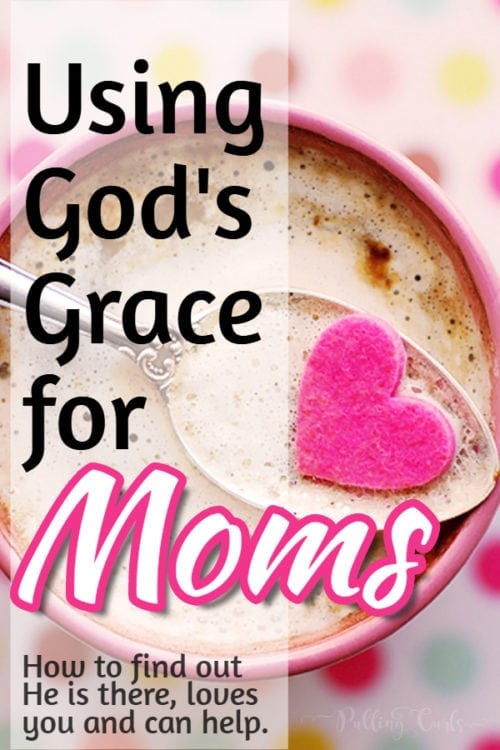 First off, I feel pretty unworthy for the grace of God. I enjoy a good swear every now and then, I'm a yeller and I sometimes have a dirty joke or two to share…..
I feel like the grace of God needs to be reserved for big stuff — not my tiny petty desires, especially as a mom.
But, he cares about ME.
When I'm feeling particularly perspective-filled I realize that for God — it's like I'm his only child. He's really there for whatever I need, and what will be best for ME. To Him, because of His infinite powers — I'm His one. No need for sibling rivalry because He actually DOES have enough of everything for each of us.
As a mom, especially as a young mom, I felt like the small things certainly weren't something He cared about.
My first one had a TON of ear aches and the crying was more than I could take sometimes.
I'd hold him and just BEG God to make it stop. And it would. Not forever, but enough for me to gather my wits and move on.
Related Post: When to spank
The thing is — for the majority of our parenting time we're entirely alone. We're making snap decisions on our own. Things that could make a big difference for that kid — we're making that call. We're encouraging, or not encouraging things that impact big choices.
If you look at that child's life — from back to front, it can be REALLY intimidating.
But, instead, we're just making many small choices each day.
And we DESERVE the Grace of God to help us in those choices.
That grace can look several ways:
Answering prayers.
As a Member of the LDS church, I believe that I have the Holy Ghost with me to keep me making good choices throughout my day 24/7.
Peace
I would guess for some of my readers, you're not using the grace of God. Maybe you think your problems are too small, or that it won't do anything.
But, if you have a belief in God (frankly, if you didn't have some belief I don't think you'd be reading this anyway) — call on Him daily (sometimes hourly, or minutely) to help you.
He really will. I can testify that He listens and hears your prayers.
Related post: Church Bags
Some ways you can ask for the grace of God:
Live your life in a positive way, and fill your life with positive things (I think it's hard to be in a spot to ask for the Grace of God if you've just been watching a raunchy show or listening to music that doesn't promote positivity)
Say a prayer each day — to look for times you either receive His grace, or you could ask for it.
Live your life as a daughter of God. Realize that your children are also children of God and God's grace is often heaped upon them by you.
Realize that it is a gift from God that you have children, and with that gift comes His desire to help you.
I just think sometimes we get so stuck in the ruts of parenting that we don't see that there is help. Angels around us, a loving God and even a loving husband who also wants to help. Sometimes we just need to ask.
I made a little printable — something you could print small or large to hang by somewhere you are frequently. I hope you like it, I like the verse a lot. And, check out my other parenting posts below that:
[pt_view id="a38f28df64″]