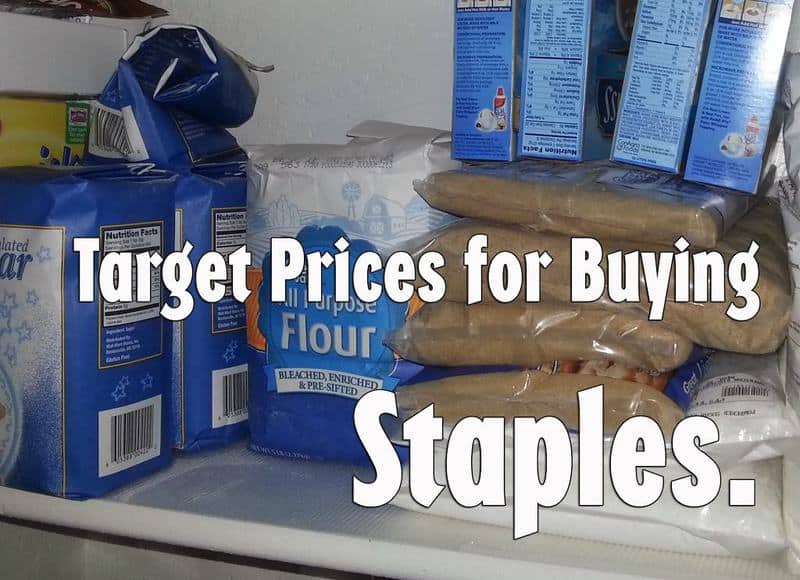 Here's the mainstays of my cooking life. Each time I write down the price for staples in the front of my grocery shopping notebook (which is good, because they do fluxuate, and I want to have the most recent prices written down). That way, when things are on sale I can know if it's better then the Walmart usual price, or if I should pass. Walmart has really great prices already on staples, so it's a good guide. I will find them a few cents less every now and then in an add, and discount foods sometimes has them cheaper as well.
Sugar (3) 49 cents/lb
Brown Sugar (4) 79 cents/lb
Oil 48 oz (3) 2.74
Flour (4) 50 cents/lb
Powdered Sugar (3) 81 cents/lb
Popcorn (8) 94 cents/lb
I also keep on hand brownie and cake mixes, both of which I try to get for a dollar or less. I also have about 4 boxes of bisquik which I aim for about 2 bucks/box.
Also keep in mind I keep wheat in bulk (usually around 50 pounds) and I have a wheat grinder, so I don't need to keep as much white flour on hand (but I still do use it).
How do you buy staples? How much do you keep on hand? I'd love to hear more!
You can read more about my grocery shopping here.