I can't do it. I can't send my boys to the barber for 20 bucks to cut their hair. It just seems so fruitless, and easy to do on my own. I watched COUNTLESS videos, I read a TON of blogs on it — but honestly, my results weren't that great.

But then Santa found these great clippers for us for Christmas. I tried them out yesterday and YOWZAS, are they great!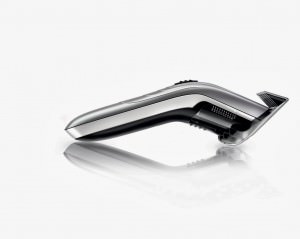 Philips Norelco QC5130 Hair Clipper
We had been using the basic hair cutting set I've had. I even bought a new set a couple of years ago thinking it SURELY couldn't be me, it HAD to be the clippers. You know, the kind with the different guards and all that jazz… The kind where you change out the tips and it buzzes like your ears are going to explode, that's the one. It'd take us about 6 passes at each area to get it shaved. It was REALLY fun. Mr Middle also REALLY hates getting his hair cut (always has) so that made it EXTRA fun.
In walks Mr Norelco with his fancy guide already on it, rechargable battery and whisper-smooth action (it still buzzes, but not in the same way). Man oh man was I sold right off. But it cut SO nicely. I could shave the back of their heads in like 3 minutes, and that made the rest of it go really quickly as well.
So, maybe I'll drop the sterile gloves and pick up barber chair. Unlikely, but this really did make a huge difference. I was kind of figuring that it was me — but no, it was the trimmer. I am still amazing. 🙂 If you want to cut your husband's hair, I'd try these trimmers. They really are great.
* I bought these trimmers, I don't do paid gigs unless I state it. I really was looking for something new after the last session of tears cutting. I really do love them. It used to take me 2 hours to cut, this dropped it to one. SWEET!