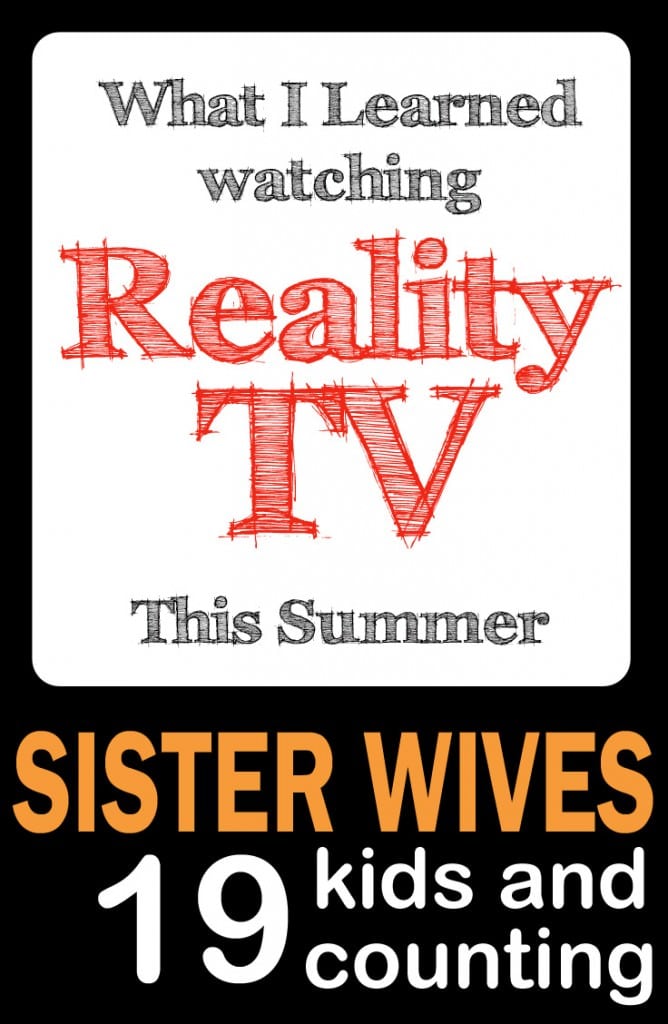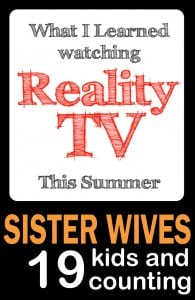 I visited my parents for a few weeks in July. Besides enjoying being out of the sweltering heat — my parents have CABLE.
Little known fact, the most searched thing for on this blog is Sister Wives. And my mom had recorded some in anticipation of my visit.
Another favorite of mine is the Duggar family 19 kids and counting. Here's the top 7 things I learned about life from reality TV:
Love your kid as individuals. I'm always impressed by how much Mrs Duggar wants to invest in EACH child.
If You're Not Happy, not much else matters — man those Sister Wives seem unhappy!
The Mormons have taken all the perks of Polygamy and left the bad stuff behind
Courting is sweet — I couldn't help but smile watching them really grow to know their partner, while skipping the physical. Would I do it? Probably not… but it is sweet, and certainly bypasses any possible consequences.
Reality doesn't make you smart. — oh man, the Sister Wives and their HORRIBLE website. I know how much it takes to run a good website –but theirs isn't. The ways they think they can make money makes me want to reach through the TV and strangle them. Can't they write a blog? I'd read it? But, then theyd need to know how to write…. which brings me back full circle.
Maybe love IS all you need. Having parents who love you and love each other is such a great example for those Duggar kids. Sure, I'd kill Jim Bob if I was married to him, but it seems to work…
Family is family. Every one is different, and hopefully it makes you happy. Those are VERY different, but it sure is interesting to get a peek into someone else's life!
So, back to my cable-free house I go. My reality is that I'd love a peek in a regular household. Is the mom as frustrated as I am. Do they fight? Do the kids get along? You always wonder how normal you are…. what do you like about reality TV?