I have had a few people ask me my secret to my kale chips.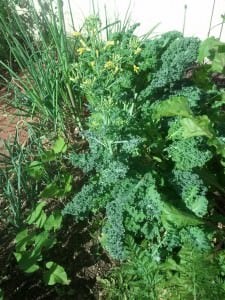 Here's what I think:
1. My kale had grown for a while. A bit of it is starting to grow to seed. The leaves were of a decent thickness. That's right, homegrown organic kale. I'm just gonna throw away the kids vitamins. 🙂
2. I cooked it for 15 minutes and then I checked it. Cooked it for another 5 minutes, and then kept cooking for it for 2 minutes (I think 3 more times) until it was perfect. There's such a fine line between soggy and crispy. But these were perfect.
I say try it again. It's SO great for your kids, and yourself!